Baron Edmond De Rothschild
(1845 - 1934)
Baron Abraham Edmond Benjamin James de Rothschild was born on August 19, 1845, in the Paris suburb of Boulogne-Billancourt, Hauts-de-Seine, the third son of James (Ya'akov) and Betty (Batya) Rothschild, who headed the Paris branch of the Rothschild banking dynasty. Edmond received a traditional Jewish education in addition to his general, universalist schooling. He was taken to Switzerland as a child after his father, a senator in France, had refused to vote for the pro-Nazi Vichy regime led by Marshal Philippe Petain in World War II and had been declared a non-citizen.
In 1868, at the age of 23, he joined the family business.
In 1877, he married his cousin Adelheid von Rothschild of Naples, the daughter of Wilhelm Carl von Rothschild, one of the Rothschild banking family of Naples, with whom he had three children: James Armand Edmond, Maurice Edmond Karl and Miriam Caroline Alexandrine.
Edmond became a leading proponent of the Zionist movement, promoting industrialization and economic development in Palestine. When he first became involved, the first Jewish communities established in Eretz Israel by the Hovevei Zion movement were in a state of financial collapse. The Baron was asked for urgent assistance and he agreed to fund all the expenses of the colonies Rishon Le-Zion, Zichron Ya'akov, and Rosh Pina.
In 1883, he founded a Jewish settlement adjoining Aqir, which he named Mazkeret Batya ("Memorial [to] Batya"), in honor of his mother. In 1894, he bought a large tract of land for Jewish settlement in the Golan.
Under the supervision of his administrators in Ottoman Palestine, farm colonies and vineyards were established, and two major wineries were opened in Rishon Le-Zion and Zikhron Ya'akov. Rothschild funded a glass factory that would supply bottles for his wineries. In Paris Rothschild met the future mayor of Tel Aviv, Meir Dizengoff, and chose him to launch and manage the new factory called Mizaga in Tantura in 1892. Mizaga was the first Jewish-owned factory in Ottoman Palestine.
At the time, the land had swamps with mosquitos that carried malaria. Rothschild paid to drain the swamps and for clinics to care for malaria victims. He also  encouraged the pioneers to maintain their attachment to Judaism. "Religious yearning is a principle among Jews," he told them. "Only a sense of religion can unite all parts of the people… You were the first to show the way of agriculture to those who will follow you. It is your obligation to show them the way of the Jewish heart." 
He also established synagogues and schools that encouraged the use of Hebrew. "I have heard many French poems in France," he said. "Here [in the Land of Israel] I will be delighted to hear Hebrew poetry."
In 1924, he established the Palestine Jewish Colonization Association (PICA), which acquired more than 125,000 acres of land in Palestine. Forty-four communities, including kibbutzim, moshavim and moshavot, were established and financed by the Baron and his descendants. Edmond also sent European agricultural experts to assist them. In 1929, he was appointed Honorary Chairman of the Jewish Agency for Israel.
According to historian Albert M. Hyamson, "Rothschild recognized that the overriding interest of the Jews of Palestine was the confidence and the friendship of their Arab neighbors. The interests of the Arab cultivators of the land he bought were never overlooked, but by development he made this land capable of maintaining a population ten times its former size." In a 1934 letter to the League of Nations he wrote, "the struggle to put an end to the Wandering Jew, could not have as its result, the creation of the Wandering Arab."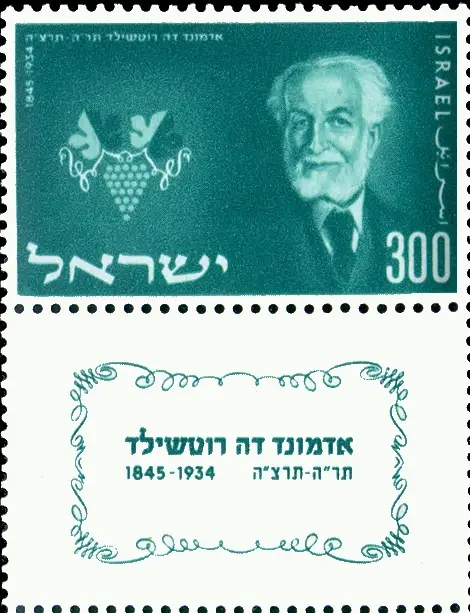 1954 Stamp
Edmond took little active part in banking but pursued artistic and philanthropic interests, helping to found scientific research institutions such as the Institut Henri Poincaré, the Institut de Biologie physico-chimique, the pre-Centre National de la Recherche Scientifique, the Casa Velázquez in Madrid, and the French Institute in London. In 1907, as a cofounder member, he also provided funds and support for the foundation of the Friends of the French National Museum of Natural History Society. He served as a member of the French Académie des Beaux-Arts and through it sponsored the archaeological digs of Charles Simon Clermont-Ganneau in Egypt, Eustache de Lorey in Syria, and Raymond Weill in Palestine.
Edmond also acquired an important collection of drawings and engravings that he bequeathed to the Louvre consisting of more than 40,000 engravings, nearly 3,000 drawings, and 500 illustrated books. Included in this gift were more than one hundred engravings and drawings by Rembrandt. A portion of his art collection was bequeathed to his son James A. de Rothschild and is now part of the National Trust collection at Waddesdon Manor.
Baron de Rothschild died on November 2, 1934, at Château Rothschild, Boulogne-Billancourt. His wife died a year later. They were interred in Père Lachaise Cemetery in Paris until April 1954 when their remains were transferred to Israel. At the port of Haifa, the ship was met with sirens and a 19-gun salute. A state funeral was held with former Prime Minister David Ben-Gurion giving the eulogy following which Edmond de Rothschild and his wife were re-interred in Ramat HaNadiv Memorial Gardens near the towns of Zichron Ya'akov and Binyamina, both of which he helped found and are named in his family's honor.
For his Jewish philanthropy Baron Edmond became known as "HaNadiv HaYadu'a," ("The Known Benefactor" or "The Famous Benefactor") and his son bequeathed the funds to construct the building for the Knesset in his memory.
Independence Day coin is dedicated to the memory of Edmond de Rothschild and marks the centenary of his first projects in Israel. From 1982 until 1986, the Bank of Israel used his portrait on the 500 shekel note.
---
Sources: "Edmond James de Rothschild," Wikipedia;
"Baron Edmond de Rothschild," Encyclopædia Britannica;
Ramat Hanadiv.
Photos: Public Domain - Wikipedia