Gretel Bergmann
(1914 - 2017)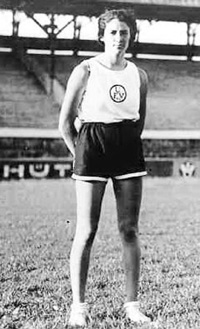 Gretel Bergmann, also known as Margaret Bergmann-Lambert is a German born Jewish Olympic athelete who prepared to compete in the 1936 Olympic games for Germany. She was born in Laupheim Germany on April 12, 1914 and was very active in sports from a young age due to her father's interest. As a child she excelled in sports and held her own with players much larger and older than herself. In 1930 she joined Germany's most prestigious and well respected sports club, SSV Ulm 1846, where she participated in country-wide sports competitions and did well, especially in track-and-field events. In 1931 at the age of 17 she set a new German record in the high-jump, with a jump of 1.51 metres. The mid 1930's saw the rise of the Nazi monstrosity in Germany, and Bergmann along with other Jewish atheletes were not welcome to train in their home country anymore. Fearing for her safety, Bergmann's parents got her out of Germany and sent her to England where she could train in peace. Bergmann honed her athletic abilities while training in England and won the British High-Jump championship in 1934, hoping to secure a chance to compete in the upcoming 1936 Berlin Olympics.
Word travelled fast of her successes, and Germany was intently listening. German officials threatened Bergmann and told her that her family would be killed if she did not return to Germany and compete for their national team, so in late 1934 she left the safety of England and headed back into Nazi territory. The Germans desperately needed Jewish representatives on their team in order to keep up appearances on the international stage and quell accusations of racism, and Bergmann was a prime candidate. She was allowed to train in Germany but because she was Jewish she never felt welcomed, and felt shunned and dislocated from her teammates. She was one of three Jews named to the national German Olympic team for the Summer 1936 games in Berlin.
One month prior to her Olympic debut Bregmann tied the German national high jump record by passing 1.60 metres and was ecstatic about her accomplishment. After two weeks she then recieved a letter stating that her fantastic accomplishment had been stricken from the record books and that she was being removed from the team due to underperformance. The Nazis prevented her from competing in the games because of her Jewish roots, replacing her instead with a jumper named Dora Ratjen who later through a bizarre twist of events was revealed to be a man who was raised as a woman. German participants were told that Bergmann could not compete due to an injury, and her Jewish counterpart Helene Mayer was the only German Jew to actually compete in the games.
After the Olympic games, Bergmann came to the United States to find a better life and settled in New York City. She continued to participate in sports and won the 1937 and 1938 US Women's high jump championships, in addition to the 1937 shotput championship. After marrying a doctor named Bruno Lambert she recieved US citizenship in 1942. The widespread breakout of World War II caused Bregmann to stop competing, and her career eventually fizzled out.
A documentary based on her life called "Hitler's Pawn: The Margaret Lambert Story" was produced by HBO and released in 2004 prior to the summer Olympic games. This documentary gained critical acclaim and brought her heroic story into the national spotlight.
In November 2009 the German government officially reinstated the high jump record in her name and recommended that she be placed in the German Sports Hall of Fame, in a gesture of immense respect. Gretel Bergmann turned 100 years old on April 12, 2014 and lived out her last years in New York City.
Bergmann died on July 25, 2017, at 103 years of age.
---
Sources: Jewishsports.net,
New York Daily News;
Jewish athlete barred from 1936 Berlin Olympics dies at 103, JTA, (July 26, 2017).