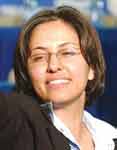 Gila Gamliel was born in Gedera, Israel in 1974. She completed her army service as the head of an air force investigative staff with the rank of sergeant. She holds a B.A. in Middle Eastern History and Philosophy and an M.A. in Philosophy from Ben Gurion University of the Negev.
Gamliel served as chairperson of the National Students' Association - the first woman to hold this position. She previously served for three terms as chairperson of the Students' Union of Ben Gurion University. She represented Likud Women on the National Naamat Conference and served as a member of the Negev Forum.
Elected to the 16th Knesset in 2003, she served as a member of the Knesset Economics, Education, Culture, and Sports, and Science and Technology, and Public Relations Committees, and of the Committee for the Advancement of the Status of Women, which she also chaired. She also served as a substitute member of the Foreign Affairs and Defense Committee.
In March 2005, Gila Gamliel was appointed Deputy Minister of Agriculture.
Gamliel was appointed the Minister of Pensioners, Students, Young People, and Gender Equality following the 2015 election.
She was appointed Minister of Intelligence in the 37th government following the 2022 election.
---
Source: Israeli Ministry of Foreign Affairs.