Georgi Konstantinovich Zhukov
(1896 - 1974)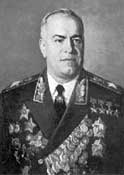 Georgi Konstantinovich Zhukov was a Soviet military commander and politician. One of the finest and certainly the most successful army commander during World War II.
Born into a peasant family in Strelkova, Kaluga Province. He was apprenticed to work in Moscow and in 1915 was conscripted into the army. He joined the Communist Party after the October Revolution and his poor background became an asset. After recovering from typhus he fought in the civil war (1918-20). By 1923 he was commander of a regiment and in 1930 of a brigade. He was a keen proponent of the new tank warfare and was noted for his detailed planning, tough discipline and strictness. He also survived the massive and grim purges of the army command institued by Stalin in the 1930s. He left the dangerous environment of Moscow to command the First Soviet Mongolian Army Group and saw action against the Japanese on the Manchurian border (1938-39) and was awarded the Hero of the Soviet Union.
Promoted to general in 1940 he was briefly chief of STAVKA before a disagreement with Stalin led to him being replaced in June with Marshal Boris Shaposnikov (replaced by Alexander Vasilievsky in November). In October, 1941, he replaced Semyon Timoshenko in command of the central front and directed the defense of Moscow. In 1942 he was made Deputy Commander-in-Chief and sent to the southwestern front to save Stalingrad, capturing the German Sixth Army in 1943 at the cost of maybe a million dead. He gave General Vatutin command in the Battle of Kursk. Following the failure of Marshal Voroshilov he lifted the siege of Leningrad in mid-1944.
He led the offensive of 1944 and the final assault on Germany in 1945, capturing Berlin in April and becoming the first commander of the Soviet occupation zone in Germany.
In 1947, Zhukov was demoted to command the Odessa military district. After Stalin's death, Zhukov became deputy defense minister (1953) then defense minister (1955). He supported Nikita Khrushchev in 1957, and was made in June, 1957 a full member of the Central Committee. Just four months later he was relieved of his ministry and dropped from the central committee by Khrushchev. After Khrushchev was deposed (1964), Zhukov could appear in public again.
He was buried with full military honors.
---
Sources: Search Beat