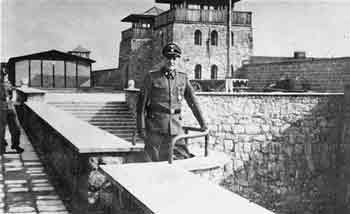 Franz Ziereis was the commandant of the Mauthausen concentration camp. Ziereis was born August 13, 1905, in Munich. After attending commercial school in Munich, he signed up as a career military officer in Germany's Reichswehr (army) on April 1, 1924, for 12 years. On September 30, 1936, he left the army with the rank of sergeant and joined the SS. He was appointed SS Obersturmführer (SS first lieutenant), and in 1937 took over the leadership of the 22nd Hundertschaft (hundred-man-unit) of the SS Death's Head detachment "Brandenburg."
In the spring of 1938 Ziereis participated with SS mobile units in the occupation of Austria. On July 1, 1938, he was transferred to the SS Death's Head regiment "Thüringen" as a training instructor. Upon an order by the leader of the SS Death's Head formations and by the inspector of the concentration camps, Theodor Eicke, Ziereis was sent from Buchenwald to Mauthausen on February 9, 1939, to take over the post of Commandant of Mauthausen, replacing Albert Sauer. On August 25, 1939, Ziereis was promoted to the post of SS-Sturmbannführer (SS major) and, on April 20, 1944, due to "special achievements" as camp commandant, eventually to the rank of SS-Standartenführer (SS colonel).
After May 3, 1945, Ziereis fled together with his wife, but was discovered by American soldiers at his hunting lodge on the Phyrn mountain in Upper Austria on May 23. He tried to escape but was shot and seriously wounded. After his capture he was brought to a U.S. hospital in Gusen where he gave a deathbed confession and died. Following his death, his corpse was hanged by former prisoners on the camp fence in Gusen I.
See also photos.
---
Source: USHMM