Frank Lautenberg
(1924 - 2013)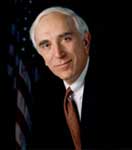 Frank Raleigh Lautenberg was a Jewish American businessman and Democratic Senator from New Jersey.
Lautenberg (born January 23, 1924; died June 3, 2013) was born in Paterson, New Jersey, the son of Polish and Russian immigrants who had come to the United States through Ellis Island. His parents moved about a dozen times in their constant pursuit of work. Lautenberg's father, Sam, worked in the silk mills, sold coal, farmed and once ran a tavern. When Lautenberg was 19, his father died of cancer. To help his family, he worked nights and weekends until he graduated from Nutley High School.
After graduating from high school, Lautenberg enlisted and served in the Army Signal Corps in Europe during World War II. Following the war, he enrolled at Columbia University on the G.I. Bill and graduated with a degree in economics in 1949.
After finishing college, Lautenberg joined with two boyhood friends and helped found the nation's first payroll services company, Automatic Data Processing. Serving as chairman and CEO, Lautenberg developed ADP into one of the largest computing services company in the world.
From 1978 to 1982, Lautenberg served as Commissioner of the Port Authority of New York and New Jersey.
In 1982, he decided to launch a new career in politics and was elected to the Senate to represent New Jersey on his first campaign. He was re-elected in 1988 and 1994 and announced his retirement from Congress in 2000.
Over his first three terms in the Senate, Lautenberg built a solid record of accomplishment on a broad variety of issues, from helping to balance the budget to stopping aid to states that support terrorism. Lautenberg also co-authored the Ryan White Act to assist in providing services to AIDS patients.
In 2002, only slightly more than a year after his retirement, Lautenberg replaced the incumbent Senator Bob Torricelli on the ballot and won reelection for a fourth term. He became the first New Jersey senator to hold both the junior and senior placements in Congress.
On June 3, 2013, Lautenberg passed away due to complications from viral pneumonia. He was 89 years old.  At the time of his death, Lautenberg was the oldest serving Senator and also the last World War II veteran to serve in the Senate.
---
Sources: Lautenberg Official Website; Wikipedia; Fox News (June 3, 2013)