Ernst von Weizsaecker
(1882 - 1951)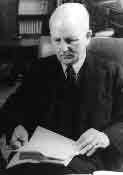 Ernst von Weiszacker was born in Stuttgart on May 12, 1882.
He served as a naval officer in World War I and then entered the foreign service in 1920. In 1937, he was appointed Ministerial Director and then became Chief of State Secretary in the Foreign office in Berlin. For the last two years of the war, 1943-1945, Weiszacker served as the German Ambassador to the Vatican.
After the war, he was arrested and placed on trial. He was sentenced on April 2, 1949, to five years imprisonment; 18 months latter he was released under general amnesty.
In 1950, Weiszacker published a memoir titled, "Erinnerungen," in which he said he was one of the anti-Nazi generals involved in the resistance. He claimed he had always opposed Hittler and the Nazi government. However, this is hard to believe because of his honorary rank in the SS.
Weiszacker died on August 1, 1951.
---
Sources: Joric Center
Wistrich, Robert S. Who's Who in Nazi Germany. New York: Robert S. Wistrich. 1995