Douglas MacArthur
(1880 - 1964)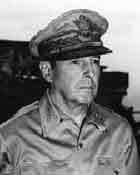 Douglas MacArthur was the son of the civil War hero General Arthur MacArthur and grew up on Army bases. He was accepted to the United States Military Academy at West Point in 1898 and graduated first in his class in 1903.

During World War I he served in France, first with the 42nd Division and on his promotion to brigadier general (the youngest ever in the U.S Army), as commander of the 84th Infantry Brigade. He spent most of the inter-war period on different assignments in the Philippines. He left the U.S. Army in 1937 to command the Philippines Army, but later returned in July, 1941 as commander of the U.S. forces in the Philippines.

During World War II, he fought in south-east Asia against Japan: after the defeat of his weak forces in the Philippines, he was made the Supreme Commander of the Allied Forces in the Southwest Pacific and took command of American, British and Australian forces defending Australia, fighting mainly in the Solomon Islands and the large island of New Guinea, where they eventually overrun the Japanese resistance in 1944; afterwards, they took back the Philippines from October 1944. In September 1945 MacArthur received the formal Japanese surrender which ended WWII; he then served as Supreme Commander of the Allied Powers in Japan until June 1950.

After the surprise attack of the communist North Korea army in 1950 started the Korean War, the United Nations General Assembly authorized a U.N. Force to re-unify the Korean peninsula in October. MacArthur led the U.N. coalition (whose back bone was the American military) counter-offensive, noted for a amphibious landing behind North Korean lines at Inchon. As his forces approached the Korea-China border, the Chinese warned they would become involved and on October 25 1951, the PLA attacked across the Yalu River forcing the U.N forces on a long retreat. MacArthur sought an extension of the conflict into China and was relieved of duty by Truman in April 1951. He was replaced by General Matthew B. Ridgway who stabilized the situation near the 38th parallel. MacArthur's last public appearance was a farewell address to Congress, interrupted by thirty ovations.

He returned from Korea to considerable public adulation and there was talk of him running for the presidency in 1952. When these hopes died away he spent the remainder of his life quietly in New York. He died in Washington, DC, on April 5, 1964.
---
Sources: Search Beat