Chester Nimitz
(1885 - 1966)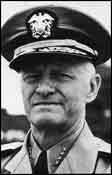 Chester Nimitz was the Commander in Chief of Pacific Forces for the United States and Allied forces during World War 2.
Chester William Nimitz was born on 24 February 1885, near a quaint hotel in Fredericksburg, Texas built by his grandfather, Charles Nimitz, a retired sea captain. Young Chester, however, had his sights set on an Army career and while a student at Tivy High School, Kerrville, Texas, he tried for an appointment to West Point. When none was available, he took a competitive examination for Annapolis and was selected and appointed from the Twelfth Congressional District of Texas in 1901.
He left high school to enter the Naval Academy Class of 1905. It was many years later, after he had become a Fleet Admiral that he actually was awarded his high school diploma. At the Academy Nimitz was an excellent student, especially in mathematics and graduated with distinction -- seventh in a class of 114. He was an athlete and stroked the crew in his first class year. The Naval Academy's yearbook, "Lucky Bag", described him as a man "of cheerful yesterdays and confident tomorrows."
After graduation he joined USS Ohio in San Francisco and cruised in her to the Far East. On 31 January 1907, after the two years' sea duty then required by law, he was commissioned Ensign, and took command of the gunboat USS Panay. He then commanded USS Decatur and was court martialed for grounding her, an obstacle in his career which he overcame.
He returned to the U. S. in 1907 and was ordered to duty under instruction in submarines, the branch of the service in which he spent a large part of his sea duty. His first submarine was USS Plunger (A- 1). He successively commanded USS Snapper, USS Narwal and USS Skipjack until 1912. On 20 March of that year, Nimitz, then a Lieutenant, and commanding officer of the submarine E-1 (formerly Skipjack), was awarded the Silver Lifesaving Medal by the Treasury Department for his heroic action in saving W.J. Walsh, Fireman second class, USN, from drowning. A strong tide was running and Walsh, who could not swim, was rapidly being swept away from his ship. Lieutenant Nimitz dove in the water and kept Walsh afloat until both were picked up by a small boat.
He had one year in command of the Atlantic Submarine Flotilla before coming ashore in 1913 for duty in connection with building the diesel engines for the tanker USS Maumee at Groton, Conn. In that same year, he was sent to Germany and Belgium to study engines at their Diesel Plants. With that experience he subsequently served as Executive Officer and Engineering Officer of the Maumee until 1917 when he was assigned as Aide and Chief of Staff to COMSUBLANT. He served in that billet during World War I.
In September 1918 he came ashore to duty in the office of the Chief of Naval Operations and was a member of the Board of Submarine Design. His first sea duty in big ships came in 1919 when he had one year's duty as Executive Officer of the battleship USS South Carolina. After that he continued his duty in submarines in Pearl Harbor as Commanding Officer USS Chicago and COMSUBDIV Fourteen.
In 1922 he was assigned as a student at the Naval War College, and upon graduation went as Chief of Staff to Commander Battle Forces and later Commander in Chief, U.S. Fleet (Admiral S. S. Robinson) .
In the meantime, the ROTC program had been initiated and in 1926 he became the first Professor of Naval Science and Tactics for the Unit at the University of California at Berkley. Throughout the remainder of his life he retained a close association with the University. After three years in that assignment, in 1929, he again had sea duty in the submarine service as Commander Submarine Division Twenty for two years and then went ashore to command USS Rigel and decommissioned destroyers at the base in San Diego. In 1933 he was assigned to his first large ship command, the heavy cruiser USS Augusta which served mostly as flagship of the Asiatic Fleet. Coming ashore in 1935 he served three years as Assistant Chief of the Bureau of Navigation. His next sea command was in flag rank as Commander Cruiser Division Two and then as Commander Battle Division One until 1939, when he was appointed as Chief of the Bureau of Navigation for four years. In December 1941, however, he was designated as Commander in Chief, Pacific Fleet and Pacific Ocean Areas, where he served throughout the war. On 19 December 1944, he was advanced to the newly created rank of Fleet Admiral, and on 2 September 1945, was the United States signatory to the surrender terms aboard the battleship USS Missouri in Tokyo Bay.
He hauled down his flag at Pearl Harbor on 26 Nov. 1945, and on 15 December relieved Fleet Admiral E.J. King as Chief of Naval Operations for a term of two years. On 01 January 1948, he reported as special Assistant to the Secretary of the Navy in the Western Sea Frontier. In March of 1949, he was nominated as Plebiscite Administrator for Kashmir under the United Nations. When that did not materialize he asked to be relieved and accepted an assignment as a roving goodwill ambassador of the United nations, to explain to the public the major issues confronting the U.N. In 1951, President Truman appointed him as Chairman of the nine-man commission on International Security and Industrial Rights. This commission never got underway because Congress never passed appropriate legislation.
Thereafter, he took an active interest in San Francisco community affairs, in addition to his continued active participation in affairs of concern to the Navy and the country. he was an honorary vice president and later honorary president of the Naval Historical Foundation. He served for eight years as a regent of the University of California and did much to restore goodwill with Japan by raising funds to restore the battleship Mikasa, Admiral Togo's flagship at Tsushima in 1905.
He died on February 20, 1966.
---
Sources: Naval Historical Center. Spartacus Educational Photo