Carl Clauberg
(1898 - 1957)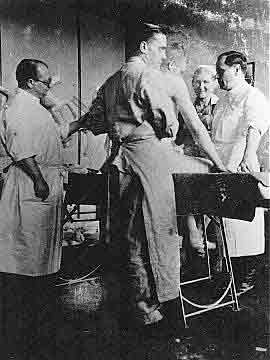 Carl Clauberg (left)
Professor Dr. Carl Clauberg was born in Wuppertal in 1898 into a craftsmen family. He participated in World War I as infantryman, later studied medicine and avanced to doctor-in-chief at the University gynaecological clinic in Kiel. He entered the NSDAP in 1933 and became a fanatical supporter of its ideology. In the same year, he was appointed professor for gynaecology at Koenigsberg University.
In 1942, he asked Heinrich Himmler, who had already been interested in Clauberg's "research," to offer him the possibility to sterilize a multitude of people for his experiments. Thus, Clauberg came to Auschwitz in December 1942 and part of Block No. 10 in the Main Camp was put at his disposal.. Looking for a "cheap and efficient" method to sterilize women, he injected acid liquids to their uterus without anaesthetics.
Thousands of Jewish and Gypsy women were subjected to this treatment. They were sterilized by the injections, producing horrible pain, inflamed ovaries, bursting spasms in the stomach, and bleeding. The injections seriously damaged the ovaries of the victims, which were then removed and sent to Berlin.
Clauberg's experiments killed some of his subjects, and others were put to death so that autopsies could be performed.
In June 1943, Clauberg wrote to Himmler:
The non-surgical method of sterilizing women that I have invented is now almost perfected . . . As for the questions that you have directed to me, sir, I can today answer them in the way that I had anticipated: if the research that I am carrying out continues to yield the sort of results that it has produced so far (and there is no reason to suppose that this shall not be the case), then I shall be able to report in the foreseeable future that one experienced physician, with an appropriately equipped office and the aid of ten auxiliary personnel, will be able to carry out in the course of a single day the sterilization of hundreds, or even 1,000 women.
Clauberg escaped the approaching Red Army and went to Ravensbruck concentration camp, where he continued his experiments. It was estimated that he had sterilized some 700 women. In 1948, he was put to trial in the Soviet Union and sentenced to 25 years; seven years later, he was pardonned and went back to the Federal Republic of Germany. Upon returning he held a press conference and boasted of his scientific work at Auschwitz.
After survivor groups protested, Clauberg was arrested in 1955 but died in August 1957, shortly before his trial should have started.
---
Sources: Angels of Death [link dead].
The Auschwitz-Birkenau Museum.