Benzion Netanyahu
(1910 - 2012)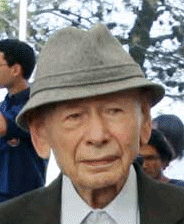 Benzion Netanyahu was an Israeli historian and author on Jewish history, though he is most well known as the father of Yoni Netanyahu and Benjamin Netanyahu.
Netanyahu (born Benzion Mileikowsky, March 25, 1910; died April 30, 2012) was born in Warsaw, Poland, and he emigrated with his family to pre-state Israel in 1920, living in Jaffa, Tel Aviv, and Safed before finally settling down in Jerusalem. Benzion began his studies at the David Yellin Teachers' College and later moved to the Hebrew University, where he specialized in history.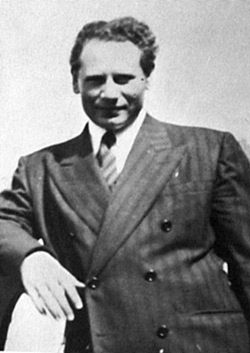 Benzion during his time in New York (circa 1945)
After moving to Palestine, Benzion's father Nathan began to sign his articles with the last name Netanyahu and, as was the practice of many European Jews who moved to the area, Benzion eventually adopted this last name, a name which has name etched a timeless chord in the Jewish and Israeli history.
As an academic, Netanyahu specialized in the field of Medieval Spanish Jewry, writing a book about Isaac Abrabanel and essays on the Spanish Inquisition and the Marranos. He developed a theory according to which the Marranos converted, not under compulsion, but out of a desire to integrate into Christian society - but were pushed into being Marranos by continued persecution due to racism, and not out of pure religious persecution, as was previously believed. Netanyahu rejected the myth that the Marranos lived double lives, claiming that the idea grew out of Inquisition documents.
In the late 1930s, after having become active in the Revisionist Zionist circles and befriending the father of the movement, Ze'ev Jabotinsky, Benzion moved to New York to become Jabotinsky's personal secretary. Shortly thereafter, when Jabotinsky died, Netanyahu remained in New York and continued his Revisionist activities. He served as executive director of the New Zionist Organization of America in New York, the political rival of the mainstream Zionist Organization of America, from 1940 to 1948. During this time in New York, Benzion married Tzela Segal and together, they had their first son - Yoni Netanyahu.
While not overtly political by nature, Netanyahu believed in Greater Israel. When the United Nations Partition Plan for Palestine was published in November 1947, he joined others who signed a petition against the plan that was published in the New York Times.
Benzion, with son Benjamin
visit the grave of son Yoni
In 1949, shortly after Israel's official declaration of independence, Netanyahu returned to Israel and later became the chief editor for the Encyclopaedia Hebraica. He returned to the U.S. in 1957 to work in the Hebrew Language department at Dropsie College in Philadephia, then moved to the Hebraic Studies department at the University of Denver, and finally he returned to New York to become a professor of Judaic Studies at Cornell University.
In the late summer of 1976, shortly after his son Yoni was killed during the famous hostage rescue operation in Entebbe, Benzion and his family - including sons Benjamin and Iddo - returned to live in Israel for good.
Though Benzion's greatest professional accomplishment is his 1,400 page opus on the Origins of the Inquisition in Fifteenth Century Spain, he is most well-known around the world as the father of Yoni and Benjamin.
Benzion Netanyahu passed away on the morning of April 30, 2012, he was 102 years old.
Benjamin Netanyahu, Benzion's second son and Prime Minister of Israel, has said the most important message he learned from his father is that, "whoever doesn't know his past, can't understand his present, and therefore can't plan for his future."
---
Sources: Wikipedia.
Haaretz, (April 30, 2012).
New York Times, (April 30, 2012).
The Atlantic, (April 30, 2012).