Avishay Braverman
(1948 - )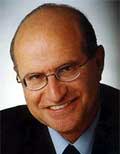 Avishay Braverman was born in Israel in 1948. He completed his army service with the rank of Lieutenant. An economist by profession, he holds a Ph.D. in Economics from Stanford University (1976).
First elected to the Knesset in 2006, Braverman served on Economic Affairs Committee and the Finance Committee, which he also chaired. He also served as chairman of the Pensioners' Lobby.
Avishay Braverman served as Minister of Minority Affairs from March 2009 until his resignation in January 2011.
He is married and the father of two.
---
Sources: Israel Ministry of Foreign Affairs