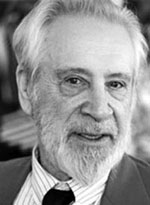 Anthony Hecht was born in New York City to Jewish and German parents on January 16, 1923. His upbringing was nothing of note, and he recalls that while growing up and attending various schools in New York City he did not show any great academic prowess. While attending Bard College in the Catskill Mountains he became infatuated with literature and decided that he wanted to be a poet. Early on in his career he was heavily influenced by the poetry of Wallace Stevens, W.H. Auden, and Dylan Thomas.

Before he could finish his time at Bard, he was drafted into the Army to serve as an infantryman during World War II where he fought in Germany, France, and Czechoslovakia. While serving in the Army his unit was tasked with liberating the Flossenburg concentration camp, an experience that would have a profound effect on Hecht for the remainder of his life. He was personally in charge of interviewing and collecting evidence from the French prisoners in the camp, and stated years later, "The place, the suffering, the prisoners' accounts were beyond comprehension. For years after I would wake shrieking."

Following the war Hecht was briefly given an assignment in Japan as a writer for the Stars and Stripes military newspaper before returning to the United States to continue his education. He took advantage of the G.I. Bill and began his studies at Kenyon College under the guidance of well respected poetry critic John Crow Ransom. During his time at Kenyon College he met other aspiring poets like Allen Tate and Randall Jarell, and then went on to recieve his masters degree from Columbia University. Hecht's teaching career began at the University of Iowa teaching the Iowa Writers Workshop alongside a friend with whom he had served in World War II. Hecht published his first collection of poetry, entitled A Summoning of Stones in 1954 and over the years published six other poetry collections including The Hard Hours (1967), Millions of Strange Shadows (1977), The Venetian Vespers (1979), The Transparent Man (1990), and Flight Among the Tombs (1998). Hecht published his final work, The Darkness and The Light in 2001.

Over the years Hecht won many prizes and was awarded many accolades, such as The Rome Prize in 1951, the Pulitzer Prize for Poetry in 1968, the Bollingen Prize in 1993, the Ruth Lilly Poetry Prize in 1988, the Aiken Taylor Award for Modern American Poetry in 1989, the Wallace Stevens Award in 1999, and the 1999/2000 Frost Medal.

After a long and decorated teaching career, Anthony Hecht passed away on October 20, 2004 at his home in Washington DC. His body was laid to rest in the cemetery at Bard College, and he was posthumously awarded the National Medal of Arts. In his memory, the Waywiser Press awards an Anthony Hecht Prize yearly for achievements in poetry and literature.
---
Sources: The Poetry Foundation;
Poets.org;
Schudel, Matt."Poet, essayist Anthony Hecht dies at 81," The Washington Post, (October 22, 2004)