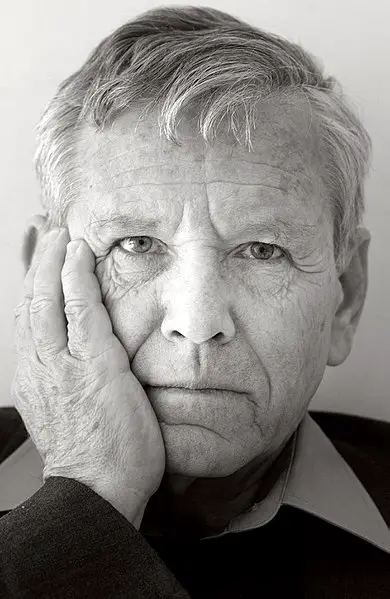 Amos Oz was an Israeli author, journalist and intellectual. He also served on the faculty of literature at Ben-Gurion University.
Oz was born Amos Klausner in Jerusalem on May 4, 1939, during the British Mandate, the son of Yehuda Arieh and Fanya Klausner. At the age of 14, after his mother's suicide, he went to live in Kibbutz Ḥuldah, where he finished high school and stayed on as a member for two decades. From 1986 on, he lived with his family in the southern town of Arad.
Oz later studied philosophy and literature at the Hebrew University in Jerusalem. After graduating, Oz was a visiting fellow at Oxford University, author-in-residence at the Hebrew University and writer-in-residence at Colorado College. In 1960, Oz married Nily Oz-Zuckerman
An author of prose for both children and adults, as well as an essayist, Oz has been widely translated and is internationally acclaimed.
Oz's first collection, Arẓot ha-Tan (Where the Jackals Howl and Other Stories, 1981), appeared in 1965, followed a year later by his first novel, Makom Aḥer (Elsewhere, Perhaps, 1985). The short stories received high praise from critics, and his popularity soared with the publication of his second novel, Mikhael Sheli (1968; My Michael, 1972). Oz became one of the leading figures in the "New Wave" movement in the 1960s (other prominent writers in this group are Amalia Kahana-Carmon, A.B. Yehoshua, and Aharon Appelfeld) and the most popular author of his generation.
From his earliest fiction, his writing has been marked by a unique, recognizable style. The stories are constructed as concentric circles, focusing on a psychological conflict, a psychic drama. That drama, the struggle between the ego and its shadow, is typically the kernel of the story. Around this inner ring the narrative builds a family drama, which is a projection of the tensions within the psychic drama. Wider circles radiating from this dramatic center are society, landscape (the kibbutz and the jackals around it), and politics (the tensions with the Arabs). The outermost sphere is the divine one, manifesting the same contending forces found within the psychic drama.
Although the religious element in Oz's work is usually camouflaged, it is one of its most important themes. Tensions between the different psychic forces are reflected in the struggle between the dull, humdrum, secure existence within society's borders and the vibrant, alluring, and destructive experiences that lie beyond those borders. These conflicts are manifest in Oz's subsequent work in the struggle between light and darkness, life and death, God and Satan, mind and body, man and woman, Jews and Arabs, culture and nature. Other collections of stories include Ad Mavet (1971; Unto Death, 1978), Har ha-Eẓah ha-Ra'ah (1976; The Hill of Evil Council, 1978). Among Oz's novels are Menuḥah Nekhonah (1982; A Perfect Peace, 1986), Kufsah Sheḥorah (1987; Black Box, 1989), Lada'at Ishah (1989; To Know a Woman, 1991).
Typically, Oz's novels and novellas open with a clash between two sworn enemies (be they psychological, societal, or political), then progress toward a reconciliation of those opposites, so that previously antagonistic forces are seen as complementary, needing each other for their very existence. Thus, the seemingly binary relations reveal themselves to be dialectical. The idea that the enemy is also one's brother can be found in Oz's early story "Before His Time," and throughout his oeuvre. It underlines the fact that, unlike S.Y. Agnon, A.B. Yehoshua, and many other Israeli authors who were influenced by Freud, Oz is a follower of Carl Gustav Jung. Jung's ideas are reflected in Oz's work in three principal areas. First, in the structure of the psyche: the ego is depicted as a weak and unstable element at the top of a pyramid whose main volume is the collective unconscious, the latter being the reservoir of primordial urges, creativity and supreme intelligence. Second, the major psychic processes portrayed in Oz's fiction are typically Jungian: the "self " is attained only when the protagonist is reconciled with the dark aspects of his personality; the "self " reveals the image of God in human beings; the "treasure hunt" represents the search for "self." Third, Jung's writing, and to a great extent his interpretations of the alchemists' texts, furnished Oz with a huge reservoir of symbols. Oz uses these symbols in conjunction with others taken from different mythological traditions (Christianity, Judaism, Greek mythology). Most of the mythological symbols employed by Oz are in keeping with Jung's interpretation of them. The psychic processes mentioned above, conveyed through typical Jungian symbols, form the core of most of Oz's stories and novels from his earliest writing.
Oz's texts can be read on many levels, which explains why they are popular despite their complex themes. Black Box is a case in point. The psychological content of the novel is camouflaged (the protagonists are implicitly characterized as "anima" and "animus" figures, and the novel as a whole is an examination of male-female relations). However, it was the overt social context (the tensions between Ashkenazi and Sephardic Jews, right wingers and leftists, etc.) that drew the attention of both readers and critics. These social aspects were underscored in the theater and film versions of the novel. Thus Oz's work is a unique example of a complex modern literary text that has also great appeal to the general public. Other novels by Oz include Ha-Maẓav ha-Shelishi (1991; Fima, 1993); Al Tagidi Laylah (1994; Don't Call It Night, 1996); Oto ha-Yam (1998; The Same Sea, 2001). Oz's first books were extolled by critics and scholars. Even though certain critics have argued that his later novels lack the creativity and originality of his earlier fiction, Oz's popularity in Israel has not diminished. His autobiographical novel Sippur al Ahava ve-Ḥoshekh (2002; A Tale of Love and Darkness, 2004) was enthusiastically received by critics and readers alike.
Oz rooted his writing in the tempestuous history of his homeland. Through his writing, both fiction and nonfiction, runs a common thread: examining human nature, recognizing its frailty but glorying in its variety, Oz consistently makes the plea for an end to ambivalence, for dialogue, for a channelling of passions towards faith in the future. With an economy of words, Oz presents the people of Israel, its political tribulations and biblical landscape. Newsweek commented, "Eloquent, humane, even religious in the deepest sense, [Oz] emerges as a kind of Zionist Orwell: a complex man obsessed with simple decency and determined above all to tell the truth, regardless of whom it offends."
Since the Six-Day War in 1967, Oz has been active in the Israeli peace movement and with groups and organizations that advocate a two-state solution to the Israeli-Palestinian conflict. He has been a spokesman for the Peace Now movement since its founding in 1977. His numerous essays about Israeli politics and culture were collected in the following books: Be-Or ha-Tekhelet ha-Azah (1979; Under This Blazing Light, 1996), Poh va-Sham be-Ereẓ Yisrael (1982; In the Land of Israel, 1984), Mimordot ha-Levanon (1988: The Slopes of Lebanon, 1990), Kol ha-Tikvot ("All Our Hopes," 1998), and Be'eẓem Yesh Kan Shetei Milḥamot ("But These are Two Different Wars," 2002). Oz also published books for young readers, including Sumkhi (1978; Soumchi, 1980) as well as two collections of literary essays: the first, Shetikat ha-Shamayim ("The Silence of Heaven," 1993; German translation 1998), discusses the works of S.Y. Agnon; the second is entitled Matḥilim Sippur (1996; Beginning a Story, 1998).
His 40 books have been translated into more than 30 languages. He has won several literary prizes in Israel (among them the Brenner Prize in 1976, the Bialik Prize in 1986, and the Israel Prize in 1998) as well as worldwide. He has been named Officer of Arts and Letters in France and, in 1997, was awarded the Knight's Cross of the Legion d'Honneur. In 1992, he received the Frankfurt Peace Prize, in 2004 the Literature Prize of the German daily Die Welt and, in summer 2005, the prestigious German Goethe Prize. In 2005, Oz was voted the 41st-greatest Israeli of all time in a poll conducted by Yediot Ahronoth.
A month before his death, his book Dear Zealots: Letters from a Divided Land, containing essays on the rise of zealotry in Israel and around the world was published.
Asked about his writing, Oz said, "If I were to sum up my books in one word, I would say they are about 'families.' If you gave me two words, I would say 'unhappy families.'"
Oz died of cancer at his home in Tel Aviv on December 28, 2018. He was 79. He left three surviving children.
---
Awards and Recognition
1976 – Brenner Prize
1983 – Bernstein Prize (original Hebrew novel category) for A Perfect Peace
1984 – named a member of the Officier des Arts et Lettres in France.
1986 – Bialik Prize for literature (jointly with Yitzhak Auerbuch-Orpaz)
1988 – French Prix Femina étranger
1992 – Peace Prize of the German Book Trade
1997 – named to the French Legion of Honour
1998 – Israel Prize for literature
2004 – Welt-Literaturpreis from the German newspaper Die Welt
2004 – Ovid Prize from the city of Neptun, Romania
2004 – "Premi Internacional Catalunya" of the Generalitat of Catalonia
2005 – Goethe Prize from the city of Frankfurt, Germany for his life's work
2005 – JQ Wingate Prize (nonfiction) for A Tale of Love and Darkness
2006 – Jerusalem-Agnon Prize
2006 – Corine Prize (Germany)
2007 – Prince of Asturias Award in Literature (Spain)
2007 – A Tale of Love and Darkness named one of the ten most important books since the creation of the State of Israel
2008 – German President's High Honor Award
2008 – Primo Levi Prize (Italy)
2008 – Heinrich Heine Prize of Düsseldorf, Germany
2008 – Honorary degree from the University of Antwerp
2008 – Tel Aviv University's Dan David Prize ("Past Category") (jointly with Atom Egoyan and Tom Stoppard), for "Creative Rendering of the Past"
2008 – Foreign Policy/Prospect list of 100 top public intellectuals (#72)
2009 – Jonas Weiss Memorial Award (Sweden)
2010 – Book fair prize, Budapest (for "Rhyming Life and Death")
2010 – Honorary Fellow of the Israel Museum (May, 2010, Jerusalem)
2010 – The Prix Mediterrannee award
2010 – The readers' Award in Torino Festival
2010 – Siegfried Unseld's award, Germany
2010 – Honorary Doctorate, Siena University of Foreigners
2010 – The Readers Prize Of Torino International Literary Festival
2010 – Prix Mediterranee Etranger, France (for "scenes From A Village Life")
2010 – Napoli Prize (for "Scenes From A Village Life")
2010 – Honorary fellowship from the Israel Museum in Jerusalem.
2011 – "The Same Sea" adapted for the stage (in Tel Aviv) and as an opera (Bari, Italy)
2011 – Honorary Doctorate, Melbourne University
2012 – Honorary Doctorate, Bucharest University
2012 – Italy's Giuseppe Tomasi di Lampedusa literary prize for "The Hill of Evil Counsel"
2013 – Honorary Doctorate, University of Łódź, Poland
2013 – Newman Prize for Literature by The Hebrew University, Jerusalem, in recognition of his continues literary work
2013 – Franz Kafka Prize
2014 – Order of Civil Merit
2014 – Honorary decoration bestowed by the king of Spain
2014 – The Siegfried Lenz literary prize, granted by the City of Hamburg.
2014 – The Jewish national award for book of the year for "Between Friends", United States
2014 – Honorary doctorate, Trinity College, Dublin, Ireland
2015 – The UCLA Israel studies program annual award
2015 – World premiere of the film A Tale of Love and Darkness, based on Amos Oz's novel, takes place at the Cannes international film festival. The film is directed and co-written by Natalie Portman, who stars as Oz's mother, with Amir Tessler playing Oz.
2015 – Internationaler Literaturpreis – Haus der Kulturen der Welt, Germany, winner for Judas
2015 – Honorary degree by the University of Milan (in Language and cultures for communication and international cooperation)
2015 – Park Kyong-ni Prize, a South Korean award valued at $100,000 2016
2016 – Honorary doctorate – Universita degli studi di Milano
2016 – Honorary doctorate – San Martin University, Buenos Aires
2016 – Renmin University prize, China
2016 – Premio "Bottari Lattes Grinzane", Italy
2016 – Premio Letterario Internazionale "Città di Vigevano", Italy
2017 – Abraham Geiger Award (Berlin)
2017 – Jing Dong Literary Prize (China) for "Scenes from Village Life"
2017 – Mount Zion Award (for "Judas")
2017 – "Judas" shortlisted for the International Man Booker Prize
2018 – Stig Dagerman Prize, Sweden (for "Judas")
2018 – Yasnaya Poliana (Tolstoy) Prize, Moscow (for "Judas")
2018 – Taormina Festival Book Prize, Sicily (for "Judas")
Published works
Non-fiction
In the Land of Israel (essays on political issues) ISBN 0-15-144644-X
Israel, Palestine and Peace: Essays (1995) (Previously published: Whose Holy Land? (1994).)
Under This Blazing Light (1995) ISBN 0-521-44367-9
Israeli Literature: a Case of Reality Reflecting Fiction (1985) ISBN 0-935052-12-7
The Slopes of Lebanon (1989) ISBN 0-15-183090-8
The Story Begins: Essays on Literature (1999) ISBN 0-15-100297-5
A Tale of Love and Darkness (2002) ISBN 0-15-100878-7
How to Cure a Fanatic (2006) ISBN 978-0-691-12669-2
Jews and Words (20 November 2012) Oz, Amos; Oz-Salzberger, Fania. New Haven: Yale University Press. ISBN 9780300156478
Dear Zealots: Letters from a Divided Land (2017) Houghton Mifflin Harcourt, ISBN 9781328987006
What's in an Apple (Conversations with Shira Hadad), 2018
Fiction
Where the Jackals Howl (1965) ISBN 0-15-196038-0
Elsewhere, Perhaps (1966) ISBN 0-15-183746-5
My Michael (1968) ISBN 0-394-47146-6
Unto Death (1971) ISBN 0-15-193095-3
Touch the Water, Touch the Wind (1973) ISBN 0-15-190873-7
The Hill of Evil Counsel (1976) ISBN 0-7011-2248-X ; ISBN 0-15-140234-5
Soumchi (1978) ISBN 0-06-024621-9 ; ISBN 0-15-600193-4
A Perfect Peace (1982) ISBN 0-15-171696-X
Black Box (1987) ISBN 0-15-112888-X
To Know a Woman (1989) ISBN 0-7011-3572-7 ; ISBN 0-15-190499-5
Fima (1991) ISBN 0-15-189851-0
Don't Call It Night (1994) ISBN 0-15-100152-9
Panther in the Basement (1995) ISBN 0-15-100287-8
The Same Sea (1999) ISBN 0-15-100572-9
The Silence of Heaven: Agnon's Fear of God (2000) ISBN 0-691-03692-6
Suddenly in the Depth of the Forest (A Fable for all ages) (2005)
Rhyming Life and Death (2007) ISBN 978-0-7011-8228-1
Scenes from Village Life (2009)
Between Friends (2012)
Judas (2014)
Short stories
Oz, Amos (January 22, 2007). "Heirs". The New Yorker. Retrieved March 28,2011.
Oz, Amos (December 8, 2008). "Waiting". The New Yorker. 84 (40): 82–89. Retrieved May 22, 2009.
Oz, Amos (January 17, 2011). "The King of Norway". The New Yorker. Archived from the original on 28 February 2011. Retrieved January 17, 2011.
---
BIBLIOGRAPHY:
N. Gertz, Amos Oz (Monograph, 1980); A. Balaban, Between God and Beast: An Examination of Amos Oz's Prose (1993); R. Kalman (ed.), Amos Oz – Bibliography 1984–1996 (1998); G. Shaked, Ha-Sipporet ha-Ivrit, 5 (1998), 205–229; A. Komem and I. Ben-Mordechai (eds.), Sefer Amos Oz (2000); Y. Mazor, Somber Lust – The Art of Amos Oz (2002).
---
Sources: Israeli Ministry of Foreign Affairs;
Andrew Silow-Carroll, "Amos Oz, a 'saintly intellectual,'" JTA, (December 28, 2018).
Wikipedia;
Encyclopaedia Judaica. © 2008 The Gale Group. All Rights Reserved.

Photo: Michiel Hendryckx - GNU Free Documentation License