Aharon Appelfeld
(1932 - 2018)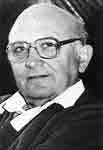 Aharon Appelfeld was an Israeli novelist and Holocaust survivor.
Appelfeld was born on February 16, 1932, in Czernowitz, Romania. In 1941, when he was nine years old, the Romanian Army retook his hometown after a year of Soviet occupation, and his mother was murdered. Appelfeld was deported with his father to a forced labor camp in Romanian-controlled Transnistria. He escaped and spent three years hiding in Ukraine before joining the Russian army as a cook. A post-war refugee, Appelfeld spent several months in a displaced persons camp in Italy. He immigrated to Eretz Israel in 1946 and lived in Jerusalem.
He was reunited with his father after finding his name on a Jewish Agency list in 1960. (Both Appelfeld and his father had presumed the other had been murdered in the Holocaust. They had both made their way separately to Israel after the war.) 
Appelfeld, a Hebrew University graduate, was a professor of Hebrew Literature at Ben-Gurion University of the Negev. He began publishing poetry in 1959. He wrote novels, short stories, and essays, and his work has been translated into a number of languages.
Appelfeld was one of Israel's foremost living Hebrew language authors, despite the fact that he did not learn the language until he was a teenager. His mother tongue was German, but he was also proficient in Yiddish, Ukrainian, Romanian, Russian, English, and Italian. In an interview in the Boston Review, Appelfeld explained his choice of Hebrew: I'm lucky that I'm writing in Hebrew. Hebrew is a very precise language, you have to be very precise–no over-saying. This is because of our Bible tradition. In the Bible tradition, you have very small sentences, very concise and autonomic. Every sentence, in itself, has to have its own meaning.
Elizabeth Lawler noted that Appelfeld wrote short stories that can be interpreted in a much more metaphoric way. So instead of having personal experience qua personal experience, he reveals and conceals. By so doing he evokes the Holocaust without sometimes even relating to it directly. He has found a voice, he has found a style that is clear and beautiful and precise and at the same time very modernistic.
Appelfeld resided in Israel but wrote little about life there. Most of his work focused on Jewish life in Europe before, during and after World War II
Appelfeld's work is recognized worldwide as among the most profound literary explorations of the Holocaust and was met with international critical and popular acclaim. Appelfeld also received the Israel Prize.
Appelfeld died on January 4, 2018.
Books Published in Hebrew
Smoke (stories), Achshav, 1962 [Ashan]
In the Fertile Valley (stories), Schocken, 1963 [Ba-Gai Ha-Poreh]
Frost on the Land (stories), Massada, 1965 [Kfor Al Ha-Aretz]
On the Ground Floor (stories), Daga, 1968 [Be-Komat Ha-Karka]
Pillars of the River (stories), Hakibbutz Hameuchad, 1971 [Adanei Ha-Nahar]
The Skin and the Gown (novel), Am Oved, 1971 [Ha-Or Ve-Ha-Kutonet]
As an Apple of His Eye (novella), Hakibbutz Hameuchad, 1973 [Ke-Ishon Ha-Ayin]
A Hundred Witnesses (stories selection), Hakibbutz Hameuchad, 1975 [Ke-Meah Edim]
Years and Hours (novellas), Hakibbutz Hameuchad, 1975 [Shanim Ve-Shaot]
The Age of Wonders (novel), Hakibbutz Hameuchad, 1978 [Tor Ha-Plaot]
First Person Essays (essays), WZO, 1979 [Masot Be-Guf Rishon]
Badenheim 1939 (novel), Hakibbutz Hameuchad, 1979 [Badenheim Ir Nofesh]
Searing Light (novel), Hakibbutz Hameuchad, 1980 [Makot Ha-Or]
The Shirt and the Stripes (novella), Hakibbutz Hameuchad, 1983 [Ha-Kutonet Ve-Ha-Pasim]
Tzili: The Story of a Life (novel), Hakibbutz Hameuchad, 1983 [Tzili:Sipur Haim]
At One and the Same Time (novel), Hakibbutz Hameuchad, 1985 [Be-Et U-Be-Ona Ahat]
Tongue of Fire, Keter, 1988 [Ritzpat Esh]
Katerina (novel), Keter, 1989 [Katerina]
The Railway (novel), Keter, 1991 [Mesilot Ha-Shahar]
Laish, Keter, 1994 [Laish]
Lost, Keter, 1995 [Timion]
Until the Dawn's Light, Keter, 1995 [Ad She-Ya'ale Amud Ha-Shahar]
The Ice Mine, Keter, 1997 [Michreh Ha-Kerah]
All That I Have Loved, Keter, 1999 [Col Asher Ahavti]
The Story of a Life, Keter, 1999 [Sipur Haim]
Awards and Honors
1975 Brenner Prize for literature.
1979 Bialik Prize for literature (jointly with Avot Yeshurun).
1983 Israel Prize for literature.
1989 National Jewish Book Award for Fiction for Badenheim 1939.
1989 National Jewish Book Award for Fiction for The Immortal Bartfuss.
1997 Foreign Honorary Member of the American Academy of Arts and Sciences.
1998 National Jewish Book Award for Fiction for The Iron Tracks.
2004 Prix Médicis (foreign works category) for his autobiography, The Story of a Life: A Memoir.
2011 National Jewish Book Award for Fiction for Until the Dawn's Light.
2012 Independent Foreign Fiction Prize for Blooms of Darkness.
2016 Sydney Taylor Book Award for the children's book Adam and Thomas.
---
Sources: Copyright The Institute for the Translation of Hebrew Literature. Reprinted by kind permission of The Institute for the Translation of Hebrew Literature, Ramat Gan Israel. The Institute's website contains biographies of 300 Israeli authors.
Elizabeth Lawler, The Literary Vision of Aharon Appelfeld: An Interview With Gila Ramras-Rauch, Hebrew College Today, (Winter 2005).
Aharon Appelfeld, Wikipedia.
Photograph by Dina Guna.