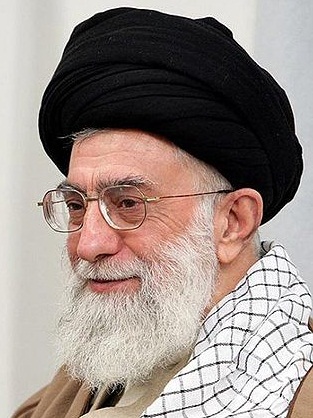 Ali Hosseini Khamenei is the Grand Ayatollah of Iran.

Born on July 17, 1939, he is the Supreme Leader of Iran and a Telver Shi'a marja. From 1981-89 he served as the country's president. In 2010, Forbes listed Khamenei as among the "World's Most Powerful People" and Time named him one of the "Time 100" in 2007.

Reportedly one of only three individuals with significant power in the Islamic Republic, Khamenei holds absolute power in his country. In June 1981 an assassination attempt paralyzed his right arm. In June 2009, the mass protests after the presidential elections led to a falling out between him and President Mahmoud Ahmadinejad.

Khamenei was a key figure in the 1979 Islamic Revolution and a close confidant of Ayatollah Khomeini. He was elected president of Iran after the 1981 assassination of Mohammad-Ali Rajai in a landslide vote, and became the first cleric to serve in the Iranian presidency. In his inaugural address as president, he promised to eradicate "deviation, liberalism, and American-influenced leftists."

Regarding his leadership, Khamenei issued a fatwa (or a religious prohibition) against any insult to the companions or wives of Muhammad. Allegedly, he issued a fatwa that the production, stockpiling, and use of nuclear weapons are forbidden according to Islam, but this has been hotly debated. No such Fatwa has ever been produced by the Iranians, and multiple investigations have yielded no concrete evidence of any such edict. .

In 2000, Khamenei was listed by the Committee to Protect Journalists as "one of the top ten enemies of the press and freedom of expression." Under his leadership, countless reporters have been arrested and interrogated for unclear and unproven charges.

Among his many government posts not already mentioned are chairman of the High Council of Revolution Culture Affairs (1982); President of the Expediency Council (1988); and Chairman of the Constitutional Revisal Committee (1989).
---
Sources: Wikipedia