Alexander von Falkenhausen
(1878 - 1966)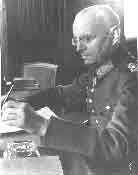 Alexander von Falkenhausen was born in Germany on October 29, 1878. He joined the German Army and served as a military attaché in Japan. During the First World War, he served with the Turkish Army in Palestine where he won the Pour le Mérite.
He remained in the army and, in 1927, he became the head of the Dresden Infantry School. After retiring in 1930, Falkenhausen went to China where he was a military adviser to Chaing Kai-Shek.
Falkenhausen was recalled to the German Army in May 1938 and, after serving as general of infantry during the Western Offensive, he was appointed as military governor of Belgium (1940-44). In this post he authorized deportations and the execution of hostages.
He detested Hitler and the Nazi regime and became a close friend of anti-Hitler conspirators Carl Goerdeler and Erwin von Witzleben. He agreed to support the Paris conspirators in the event of a military uprising in the West.
Just two days before Stauffenberg's coup attempt, Falkenhausen was dismissed from his post. After the failure of the July 20 plot, he was arrested and spent the rest of the war being transferred from one concrentration camp to another until he was liberated by the western Allies in 1945.
Falkenhausen was sent back to Belgium for trial as a war criminal. He was sentenced in March 1951 to 12 years for deporting Jews and executing hostages. After overwhelming evidence proved Falkenhausen had tried to save as many Jews and other Belgians as possible from being deported and executed, he was freed just three weeks into his sentence.
Alexander von Falkenhausen died on July 31, 1966.
---
Sources: Joric Cetner and Spartacus Educational. Joric Photo.