Adolf Galland
(1911 - 1996)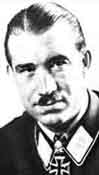 Adolf Galland, the son of an estate manager, was born in Westerholt,
Germany
, on March 19, 1911. As a young man he learnt to fly gliders and as soon as he was old enough he joined the Luftwaffe.
In October 1934, he was commissioned as a lieutenant and led a squadron during the Spanish Civil War. In the Asturias campaign in September 1937, he experimented with new bombing tactics. This became known as carpet bombing (dropping all bombs on the enemy from every aircraft at one time for maximum damage). He also took part in the bombing of Guernica on April 26, 1937. Between May 1937 and July 1938 he carried out 280 combat missions in Spain.
On the outbreak of the Second World War he was placed in charge of a ground support unit and during the blitzkrieg in Poland he won the Iron Cross and was promoted to captain.
Flying a Messerschmitt Bf109 he obtained his first three kills on 12th May, 1940. This was followed by ten more during the Western Offensive. During the Battle of Britain he was Germany's highest scoring pilots with 57 victories. On the death of Oberst Moelders on November 22, 1941, Galland succeeded him as General of the Fighter Arm.
On November 19, 1942 Galland became Germany's youngest general. He also commanded the German fighters that opposed the Allied landings in Sicily in July 1943.
In 1943, Galland began to argue that the Luftwaffe needed to change to a more defensive strategy. Adolf Hitler and Hermann Goering disagreed and after a series of arguments Galland was sacked as General of the Fighter Arm in December 1944.
Galland returned to front-line duty and now flying the Messerschmitt Me 262 shot down two more Allied aircraft on April 26, 1945 bringing his score to 103.
At the end of the war, Galland was captured and spent two years as a prisoner of war. After his release he became a military adviser in Argentina (1947-55) and published his autobiography, The First and Last (1954).
Galland returned to Germany in 1955 and was employed as a aerospace consultant, airline president and business executive. Adolf Galland died on March 9, 1996.
---
Sources: Spartacus