Anti-Semitism in the United States: ADL Audit of Anti-Semitic Incidents in 2014
(Updated April 2015)
The Anti-Defamation League's annual Audit of Anti-Semitic Incidents recorded 912 anti-Semitic incidents across the United States in 2014, a 21% increase from the 2013 figure of 751.


The 2014 incidents included:
36 Anti-Semitic Assaults (up from 31 in 2013)
513 cases of anti-Semitic harassment, threats and events (down from 405 in 2013)
363 cases of anti-Semitic vandalism (down from 4315 in 2013)
Abraham H. Foxman, ADL National Director, stated that "While the overall number of anti-Semitic incidents remains lower than we have seen historically, the fact remains that 2014 was a particularly violent year for Jews both overseas and in the United States." Foxman cited a shooting at a JCC in Kansas and various acts of violence and vandalism against Jews and Jewish institutions during 2014 to substantiate his statements.
The ADL attributed the particularly violent year towards Jews to the controversy surrounding Operation Protective Edge. Israel's ground invasion of Gaza and the heavy casualties sustained by the Palestinians fueled the global flames of anti-Semitism during 2014. The increase in anti-Semitic incidents in the United States corresponded to an increase in anti-Semitic incidents and sentiment throughout the world, according to ADL National Chair Barry Curtiss-Lusher. Lusher went on to explain that "A number of Jewish communities, including those in France, Great Britain and Austria reported a doubling of anti-Semitic incidents over the previous year due to the conflict between Israel and Hamas.  While the Jewish community here did not experience anything like the attacks overseas, the Gaza war did have an impact in terms of creating a momentary spike in incidents in the U.S."
The states with the largest Jewish populations, New York and California, topped the list of states with the most anti-Semitic incidents. New York state experienced 231 incidents of anti-Semitism during 2014, up from 203 in 2013. In California 184 incidents were reported, compared to 143 from 2013.
Anti-Semitic incidents and feelings in 2014 were correlated to the launch of Operation Protective Edge, with 139 anti-Semitic incidents reported during July 2014 soon after the launch of the operation. During that same period the previous year, only 54 incidents were reported.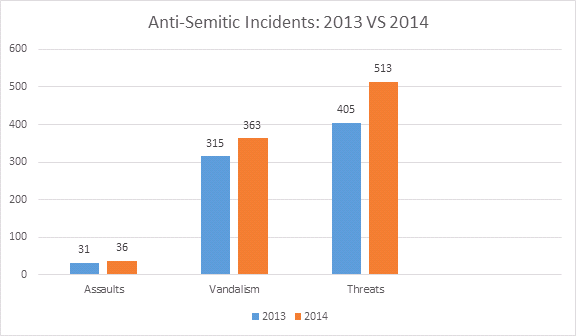 ---
Sources: Anti-Defamation League