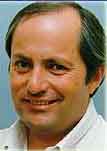 Zvi Hendel is an Israeli politician who served in the Knesset between 1996 and 2009.
Hendel was born in Romania in 1949 and immigrated to Israel in 1959. He served in the Artillery Corps and worked as a farmer. He speaks Hebrew, Hungarian, and Yiddish.
First elected as a Knesset member in 1996, Hendel served in the 14th Knesset as a representative of the National Religious Party and in the 15th and 16th Knessets for the National Union.
Hendel served as head of the Gush Katif Regional Council, director of the Company for the Development of Gush Katif, chairman of the board, the Company for the Development of the Negev Coast; member, Organization for Settling the Negev; member of the Secretariat of the Moshav Union; member, Judea and Samaria Council Executive.
In March 2003, Hendel was appointed Deputy Minister of Education, Culture, and Sport but was dismissed from the post by Prime Minister Ariel Sharon in June 2004 prior to a vote on the Gaza Disengagement Plan to which Hendel was outspoken against.
In 2005, Hendel was evicted from his home along with fellow residents of Ganei Tal as part of the Disengagement Plan.
In 2006, Hendel submitted a bill proposal that would tie an oath of loyalty to "a Jewish and democratic Israel" and to the laws of Israel, to the right to vote. The Bill was turned down by a vote of 45-17. Hendel lost his seat in Knesset following the 2009 elections.
---
Sources: Israel Ministry of Foreign Affairs. Photo courtesy of the Knesset