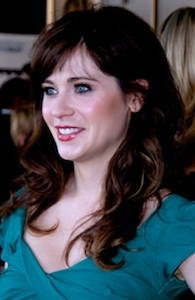 Born in Los Angeles in 1980, Zooey Deschanel started her career in supporting roles. She earned rave reviews for All the Real Girls (2003) and landed parts in big-budget movies Elf (2004) and The Happening (2007). In 2009, Deschanel starred in the hit independent film (500) Days of Summer. She went on to star in her own sitcom, New Girl, which debuted in 2011.

Born in Los Angeles, actress Zooey Deschanel has built a career on playing offbeat yet charming characters. She is reportedly named after one of the title figures in the novella Franny and Zooey, written by J.D. Salinger. With her dark hair, bright blue eyes and pixie-like manner, Deschanel seemed to personify the indie-film dream girl.

Deschanel grew up in the entertainment business. Her father, Caleb, is an Academy Award–nominated cinematographer, and her mother, Mary Jo, is an actress. Her older sister, Emily, is also an actress. Zooey spent many of her early years traveling around the world as her father worked on different films.

Deschanel attended the Crossroads School for Arts and Sciences in Santa Monica, California. There, she befriended the likes of future stars such as Jake Gyllenhaal and Kate Hudson. Deschanel loved music and acting growing up, and told The New York Times, "all through high school I thought I might be a Broadway singer."

In 1998, Deschanel made her television debut with a guest spot on the Kirstie Alley sitcom Veronica's Closet. She briefly studied at Northwestern University before dropping out to pursue acting full-time. A supporting role in the dramatic comedy Mumford (1999) gave Deschanel her first major career boost. She quickly followed up with another well-regarded performance, in Cameron Crowe's Almost Famous (2000).

Becoming a popular actress in independent film, Deschanel appeared inManic (2001) with Joseph Gordon-Levitt and in The Good Girl (2002) with Jennifer Aniston. She earned rave reviews for the little-seen but critically acclaimed All the Real Girls in 2003, co-starring with Paul Schneider and Patricia Clarkson.

Deschanel made the most of a small role in the box-office hit Elf (2004) starring Will Ferrell. The comedy gave the actress the opportunity to showcase some of her musical talents, including her ukulele skills. Deschanel played best friend to Sarah Jessica Parker in the romantic comedy Failure to Launch (2006) with Matthew McConaughey. The film proved to be a commercial and critical disappointment, as did one of her next efforts, M. Night Shyamalan's environmental thriller The Happening (2007), in which Deschanel co-starred with Mark Wahlberg.

Reteaming with Joseph Gordon-Levitt, Deschanel had a career-changing experience with (500) Days of Summer (2009). The film, sometimes called an anti-romantic comedy, reflected on a couple's relationship in reverse—from their breakup to their beginning. Both she and Gordon-Levitt won wide critical praise for the movie.

In 2011, Deschanel conquered the small screen with another quirky-girl persona. Her sitcom The New Girl debuted that fall and quickly won over television audiences. Her cute and goofy character, Jess, moves in with three single guys after splitting with her boyfriend. Deschanel received an Emmy Award nomination for the show in 2012.

The multitalented Deschanel has also enjoyed some success as a recording artist. She met singer and songwriter M. Ward in 2006. The pair worked on a song together for the soundtrack of Deschanel's 2007 film The Go-Getter. They formed their own musical group, She & Him, and released their first self-titled album in 2008. Two years later, She & Him, Volume 2 was released.

Deschanel has also been tapped to play famed country singer Loretta Lynn in a musical based on Lynn's autobiography, Coal Miner's Daughter.

Deschanel married singer Ben Gibbard of Death Cab for Cutie in 2009, but the pair announced their plans to divorce two years later. She announced her engagement to producer Jacob Pechenik in January 2015 and the couple secretly married before the birth of their baby daughter that August. Deschanel converted to Judaism before marrying Pechenik in June 2015, but was raised a Roman Catholic.
---
Sources: Biography.com. Biography.com Editors, "Zooey Deschanel Biography," A&E Television Networks

Wikimedia. By Cindy Maram/Dig In Magazine (Flickr) [CC BY-SA 2.0 (http://creativecommons.org/licenses/by-sa/2.0)], via Wikimedia Commons