Yitzhak Navon
(1921 - 2015)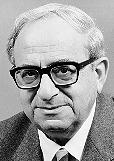 Yitzhak Navon was an Israeli politician, diplomat, and author who served as the fifth President of Israel.
Navon was born in Jerusalem on April 9, 1921, to a Sephardi family living in Pre-State Israel since the 17th century.  From 1946 through 1948, he was active in the Arab Department of the Haganah.
Following service in the Israeli embassies in Argentina and Uruguay (1949-50), he served as political secretary to Foreign Minister Moshe Sharett and head of the Prime Minister's bureau (1952-1963) under David Ben-Gurion and Moshe Sharett.
From 1963-1965 he directed the cultural division of the Minister of Education and Culture. He was elected to the Knesset in 1965 on the Rafi list, and later the Labor Party. In 1972 he was elected chairman of the General Zionist Council. From 1974-1977 he was chairman of the Knesset Foreign Affairs and Security Committee.
Yitzhak Navon served as the fifth President of the State of Israel, from 1978-1983. In October 1980, he visited Egypt, the first official visit by an Israeli president to an Arab state.
In 1984, he was again elected to the Knesset, and served as Minister of Education and Culture (1984-1990).
Navon was the author of two musical plays based on Sephardic folklore: Sephardic Romancero (1968) and Bustan Sephardi (Spanish Garden 1970).
Yitzhak Navon passed away at the age of 94 on November 8, 2015.
---
Source: Wikipedia.