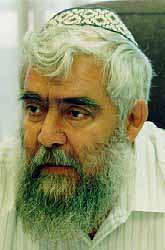 Rabbi Yitzhak Levy is an Israeli rabbi and politician who served in the Knesset and held multiple ministerial roles in the Israeli cabinet.
Levy (born July 6, 1947) was born in Casablanca, Morocco, and immigrated to Israel in 1957.
He studied at Kerem B'Yavne and Yeshivat Hakotel, receiving rabbinical ordination. He served as an officer in the IDF, achieving the rank of major. An educator by profession, Rabbi Yitzhak Levy has served as a member of the Bnei Akiva Executive and World Secretariat, and as Secretary-General of the National Religious Movement (1986-1995). He served as Rabbi of the Bnei Akiva Talmudic College in Kfar Maimon and was among the initiators of the establishment of the Jewish quarter in Jerusalem and the settlement of Elon Moreh in Judea. Yitzhak Levy is currently Chairman of the National Religious Party.
Levy was first elected to the Knesset in 1988. In June 1996, Levy was appointed Minister of Transport. In February 1998, following the death of Zevulun Hammer, he was elected leader of the NRP and served as Minister of Education, Culture, and Sport until July 1999. He also served as Minister of Religious Affairs (in rotation).
In July 1999, Levy was appointed Minister of Housing and Construction. Following his appointment, he resigned from the Knesset in order to allow the next person on the NRP list to enter the Knesset. He resigned his post as Minister in July 2000.
In April 2002, Levy resigned as leader of the NRP in favor of Efraim Eitam, and was appointed Minister without Portfolio. In September 2002, he was appointed Minister of Tourism.
In December 2008, Levy announced that he was retiring from politics, stating that the decision was made due to the new Jewish Home party not holding traditional primary elections, but instead relying on an internet-based vote
He is married and has five children.
---
Sources: Israeli Ministry of Foreign Affairs