Yitzhak Aharonovitch
(1950-)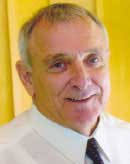 Yitzhak Aharonovitch was born in Jerusalem in 1950. He served in the IDF, reaching the rank of Lieutenant Colonel. He hold a B.A. in General History from the University of Haifa. He is married and the father of four.
From 1993-1995, he served as commander of the Border Police. From 2002-2004, he served as Deputy Commissioner of the Israel Police, after serving as commander of the southern and Judea and Samaria police districts. From 2004-2005, he served as Director General of the Dan Public Transportation Company.
In April 2006, Aharonovitch was elected to the Knesset on the Yisrael Beitenu list, serving as Deputy Speaker of the Knesset and a member of the Foreign Affairs and Defense, Internal Affairs and Environment, and Drug Abuse Committees. He is also a member of the Social Lobby, the  Jerusalem Lobby, and the Lobby for the Druze and Circassian Communities.
In March 2007, Yitzhak Aharonovitch was appointed Minister of Tourism, a post he held until 2008. Since 2009 he has served as Minister of Internal Security.
---
Sources: Ministry of Foreign Affairs, Wikipedia