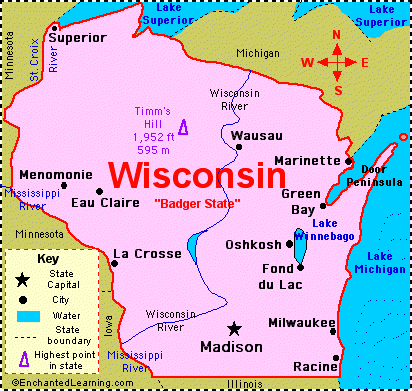 Wisconsin is a state in the north-central U.S. with a Jewish population of approximately 34,000, 0.6 percent of the general population. German, Bohemian, Austro-Hungarian, and a smaller number of English Jewish immigrants were among the earliest settlers in Wisconsin, arriving from the 1840s to the 1860s with French, English, German, and Scandinavian gentiles. Yet the first known Wisconsin Jew was Jacob Franks, a fur trader of English ancestry who settled in Green Bay in 1793. His associate and nephew, John Lawe, served in the first Wisconsin Territory Legislature in 1836 and was a county judge.
The first organized Jewish community arose in Milwaukee in 1844. By 1856, the city had three synagogues. In Wisconsin's capital, Madison, Jews organized a benevolent society in 1858 and built a synagogue, Shaarei Shamayim, in 1863. The building, one of the oldest remaining synagogues in the United States, has been moved from downtown to a city park.
Another early settler, Alsatian-born Bernard Schleisinger Weil, owned thousands of acres of farmland northwest of Milwaukee. The town of Schleisingerville (later renamed Slinger) was named for him. He was the first Jew to serve in the Wisconsin Legislature – four years after statehood was declared in 1848.
English-born John Meyer Levy, another influential newcomer, arrived in the Mississippi River settlement of La Crosse in 1845. He succeeded in business and served as mayor from 1860 to 1861 and 1866 to 1868. Levy held the first known worship services there (inter-faith) and co-founded the first synagogue in Wisconsin's third Jewish community.
In addition to Milwaukee and Madison, German Jewish immigrants were prominent in business and politics in Appleton, an industrial and university city whose first rabbi was Mayer Samuel Weiss, father of illusionist Harry Houdini, born Erich Weiss. The 19th-century Wisconsin Jewish population was estimated at 2,600 in an 1880 study. So, it was the mass Russian and eastern European Jewish immigration from 1881 to 1924 that gave the state most of its Jews. By 1899, the Jewish population had risen to 10,000, then to 28,000 in 1920, and more than 39,000 in 1937, the peak year.
Most of the second wave of immigrants came to Milwaukee, where the established Jewish community formed the Settlement House. The facility offered classes to immigrants that led to the publication of the long-running Settlement Cookbook. Other Russian and eastern European Jews spread around the state, creating Orthodox Jewish communities in two dozen municipalities in the 1920s and 1930s and accounting for a Jewish presence in some 180 more – primarily as merchants. In 1904, five immigrant families cleared land for a Jewish farming settlement in central Wisconsin. Part of a national Jewish agricultural movement, the Arpin settlement grew to 20 families and in 1915 established the county's only synagogue. Poor crop yields and a lack of marriageable young Jews compelled most families to leave by 1922.
Sheboygan Jewry exceeded 1,000 in the 1920s and 1930s. With three Orthodox synagogues and several sho?atim, Sheboygan was known among U.S. Jews as "Little Jerusalem." Other traditional Jewish communities with synagogues developed in Antigo, Ashland, Hurley, Marinette, Superior, and Wausau in the north; Eau Claire and La Crosse in the west; Beloit, Madison, and Monroe in the south; and Appleton, Fond du Lac, Green Bay, Kenosha, Manitowoc, Milwaukee, Oshkosh, and Racine in the east.
After the war, most of the smaller Jewish communities shifted to Conservative or Reform Judaism, building or buying new synagogues in a dozen cities. By the year 2000, Wisconsin's synagogues were centralized in 14 municipalities, but Jews remain a presence in nearly 70 communities. Most of the small-town synagogues serve Jews in outlying areas. Regional chavurah groups meet regularly in Waukesha County, west of Milwaukee; Door County, on Wisconsin's Lake Michigan peninsula; and the northernmost three counties – Douglas, Bayfield, and Ashland.
The University of Wisconsin campuses in Milwaukee and Madison house Centers of Jewish Studies, both founded with the help of the Wisconsin Society for Jewish Learning. B'nai B'rith, once a unifier for Jewish men and their families throughout the state, has faded, though the B'nai B'rith Youth Organization reaches a plurality of Jewish teens. Hadassah, the National Council of Jewish Women, and Na'amat USA continue to attract women. The Milwaukee Jewish Federation and Madison Jewish Community Council raise funds and coordinate local Jewish activities.
Wisconsin Jews who attained national recognition include Israeli Prime Minister Golda Meir, of Milwaukee; Sens. Herbert Kohl of Milwaukee and Russell Feingold of Madison, both Democrats; Socialist Victor Berger; playwright and novelist Edna Ferber of Appleton; Newton Minnow, chairman of the Federal Communications Commission; Martin F. Stein of Milwaukee, national chairman of the United Jewish Appeal and CLAL; Depression-era photographer Esther Bubley of Phillips; Allan H. "Bud" Selig of Milwaukee, commissioner of major league baseball; jazz pianist and scholar Ben Sidran of Madison; and Yiddish poet Alter Esselin of Milwaukee.
[Andrew Muchin (2nd ed.)]
---
Source: Encyclopaedia Judaica. © 2008 The Gale Group. All Rights Reserved.