Wilhelm Hosenfeld
(1895-1952)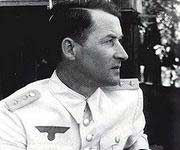 Wilhelm "Wilm" Hosenfeld was a German officer during World War II. He saved two Jews from the Holocaust, one of whom was Wladyslaw Szpilman, whose story was the basis of Roman Polanski's 2002 Oscar-winning film "The Pianist."

Hosenfeld was born in a village near Fulda in Hessen, Germany in 1895. He grew up in a conservative Catholic and German patriotic family and served as a soldier in World War I. After the war, he became a teacher, married, and had five children.

Hosenfeld joined the Nazi party in 1935. He served as an officer in the Wehrmacht stationed in Warsaw from July 1940 until the end of the war. Although Hosenfeld supported the Nazi party in its beginnings, after he read "Mein Kampf" and saw the deadly consequences of the Nazis' rise to power he grew disillusioned with the regime and kept journals detailing the abuse of Jews and others. In his writings, Hosenfeld expressed his mounting disgust with the regimes' oppression of Poles, the persecution of Polish clergy, the abuse of Jews, and, with the initiation of the "Final Solution", his horror at the extermination of the Jewish people.

The first Jew Hosenfeld is known to have helped was Leon Warm. Warm, who escaped from a train to Treblinka during the 1942 deportations from Warsaw. Hosenfeld provided him with a false identity and a job in a sports stadium in Warsaw.

In 1944, following the Nazi suppression of the Warsaw Ghetto Uprising, Hosenfeld met the Jewish musician Wladyslaw Szpilman while he was looking for somewhere to hide. Hosenfeld found Szpilman in mid-November and helped him to survive the final weeks before liberation by providing him with food and supplies.

In January 1945, Hosenfeld was taken prisoner by the Soviets and sentenced to 25 years in prison in 1950 on charges that he interrogated prisoners during the Warsaw Uprising and sent them to detention. The Soviets ignored his statements that he had helped Jews and Poles and was only responsible for the sports school and training of German soldiers. Warm and Szpilman both petitioned the Soviets for Hosenfeld's release. The Soviets refused to consider the petitions, believing that Hosenfeld had been involved in war crimes. In 1952, Hosenfeld died after a series of strokes in a Soviet prison.

Hosenfeld was honored by Yad Vashem with the "Righteous Among the Nations" distinction on November 25, 2008. Szpilman had applied for his rescuer to be recognized in 1998, but the awards commission wanted first to confirm there was no truth to the Soviet charges brought against him.
---
Sources: Jerusalem Post, Yad Vashem