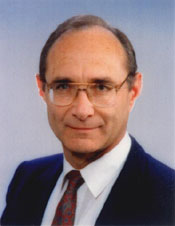 Uzi Landau is an Israeli politician and cabinet minister.
Landau (born August 2, 1943) was born in Haifa during the British Mandate over Palestine. He served in the Paratroopers Brigade of the Israel Defense Forces, and reached the rank of Major. A systems analyst by profession, Landau holds a Ph.D. from the Massachusetts Institute of Technology and B.Sc. and M.Sc. degrees from the Technion in Haifa.
In 1984, Landau was first elected as a Member of Knesset, running on the Likud party list. He chaired the subcommittee for Soviet Jewry during the 11th Knesset's term. Landau won re-election through Likud in 1988, 1992, 1996, 1999 and 2003.
In March 2001, Landau was appointed Minister of Public Security by Prime Minister Ariel Sharon and retained his place in the cabinet following the 2003 elections when he appointed Minister in the Prime Minister's Office. In October 2004, Landau resigned his seat in Knesset over objection to Sharon's Gaza disengagement plan.
In 2008, Landau reented politics through the Yisrael Beiteinu party and returned to the Knesset in the 2009 elections. Landau was appointed Minister of National Infrastructure in 2009 after his party joined the Likud-led coalition. He held this posting until 2013 when he was appointed Minister of Tourism.
He is married, and has three children.
---
Sources: Israeli Ministry of Foreign Affairs; Wikipedia