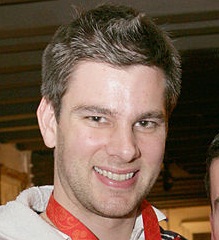 Tim Morehouse is a Jewish American Olympic fencer.
A New York City native, Morehouse was born on July 29, 1978 and has competed at the Olympic level as a member of Team USA as a fencing tour de force. He is an Olympic silver medalist in fencing (2008 Beijing Olympics), two-time individual US National Champion ('10 and '11), seven-time world cup medalist and #1-ranked US men's saber fencer from 2008-2011. Morehouse will compete at the 2012 London Olympic Games, his third Olympic team.
A graduate of Brandeis University, Morehouse was awarded the Brandeis University Alumni Achievement Award in 2010, becoming the youngest recipient in the history of that prestigious award. He is the author of American Fencer: Modern Lessons from an Ancient Sport, Founder and Producer of the Fencing Masters Tournament, the largest spectator fencing competition in the U.S. and the only non-Olympic televised tournament in the United States.
In 2011, Morehouse founded the Fencing-in-the-Schools foundation – a non-profit program dedicated to bringing the sport of fencing to under-served communities throughout the country. He also is a media personality known for promoting the sport of fencing.
Morehouse has been featured on the Today Show, Access Hollywood, Good Day New York, MSNBC and Bloomberg News and in Esquire magazine, Vanity Fair, USA Today and the Sports Business Journal. In 2009, Morehouse taught President Obama to fence on the White House Lawn.
Morehouse is a force to be reckoned with both on and off the field of play in the sport. He is an eight-time U.S. National Team member and two-time Olympian who won seven Pan Am titles between 2005 and 2007. Morehouse has won six World Cup medals and his silver medal win at the 2008 Beijing Games with teammates Keeth Smart, Jason Rogers and James Williams stands as the highest finish of any men's event in U.S. Olympic fencing history.
At the 2012 London Summer Olympics, Morehouse competed in six events: Round of 32, Round of 16, two Quarterfinals, Classification 5-8, and Placement 7-8. He beat the Russian fencer in the Round of 32, scoring 15; lost to the Belarussian fencer in Round of 16 by 2 points; and lost to the Italian and Russian fencers, respectively, in the two rounds of quarterfinals. Finally, Morehouse beat the Chinese fencer in the Classification 5-8 and also beat his Belarussian opponent in the Placement 7-8.
Off the field, he was a 7th grade teacher for three years with the Teach For America program and worked on staff at Teach For America for four years as teacher trainer. Morehouse also is an athlete ambassador for the charity Right To Play.
Much of his sense of determination is inspired by his Jewish heritage. His maternal grandmother and two of her sisters escaped from Germany in the mid-1930s. One of his great aunts barely made it out after the Gestapo arrested her husband. Thanks to her quick thinking and the help of gentile friends, he was released. All three sisters settled in the U.S.
"My grandmother joined the Quakers, having been influenced by their relief work in Germany after World War II. I grew up with a mixture of traditions in my household," Morehouse said. "My middle name, Frank, is the last name of my Jewish heritage. My sense of being Jewish comes from my awareness of my grandmother's courage and determination to live in the face of enormous difficulties."
---