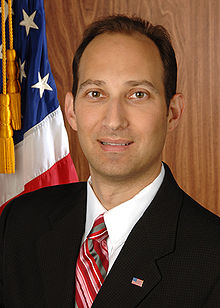 Tevi Troy is a Jewish American writer and consultant and former government official.
He graduated from Cornell University with a BS in industrial and labor relations, and earned his MA and PhD in American civilization at the University of Texas at Austin.
In the late 1990s, he served on Capitol Hill in multiple high-level positions, working for John Ashcroft among others. In the George W. Bush White House, Troy held a handful of roles over a five-year period that culminated in his service as Deputy and then Acting Assistant to the President for Domestic Policy.
From 2003-2004, Troy was the White House liason to the Jewish community. He was deputy policy director of the 2004 Bush-Cheney campaign, and in 2007, the Senate unanimously confirmed him to be Deputy Secretary of the Department of Health and Human Services. In that role, Troy was the COO of the largest civilian department in the federal government, and managed a budget of over $700 billion and nearly 70,000 employees.
Troy is an Orthodox Jew and lives in Maryland with his wife and four children.
---
Sources: Hudson Institute