Solomon Hart
(1806 - 1881)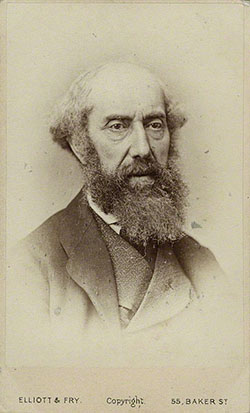 Solomon Alexander Hart was a British painter and engraver. He was the first Jewish member of the Royal Academy in London and was probably the most important Jewish artist working in England in the 19th century.

He was born at Plymouth, the son of Samuel Hart (fl. 1785–1830), a Jewish engraver and teacher of Hebrew. He remained an observant Jew all his life. He served as an engraver's apprentice in London where he studied at the Royal Academy, and excelled in miniature painting. Hart became celebrated as a painter of historical scenes and characters and, in 1854, was appointed professor of Painting in the Royal Academy, and subsequently librarian.

Works:




---
Sources: This article incorporates text from a publication now in the public domain: Wood, James, ed. (1907). "article name needed". The Nuttall Encyclopædia. London and New York: Frederick Warne.
"Obituary". Jewish Chronicle. 17 June 1881.
Solomon Alexander Hart at the Royal Academy of Arts
Roth, Cecil (1961). Jewish Art: An Illustrated History. McGraw-Hill.
Salaman, Malcolm (2005). Shakespeare in Pictorial Art. Kessinger Publishing. ISBN 1-4179-7027-8.
Van Voolen, Edward (2006). Jewish art and culture. Prestel.
Cohen, Richard I. (1998). Jewish icons. University of California Press. ISBN 0-520-20545-6.
Ripley, George; Dana, Charles Anderson (1860). "The new American cyclopædia, ed. by G. Ripley and C.A. DanaThe new American cyclopædia, ed. by G. Ripley and C.A. Dana, American cyclopaedia". The New American Cyclopaedia. D. Appleton & Company. p. 743.
Sandby, William (1862). The History of the Royal Academy of Arts from Its Foundation in 1768 to the Present Time. Longman.
Valentine, Helen (2004). "Hart, Solomon Alexander (1806–1881)". Oxford Dictionary of National Biography. Oxford University Press.