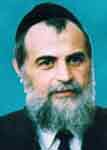 Shmuel Halpert was born in Romania in 1939 and immigrated to Israel in 1960. He was ordanied as a rabbi at the Viznitz Institute of Talmudic Studies. He has served as a member of the Board of the Central Committee of Agudat Yisrael and of the World Executive of Agudat Yisrael.
Halpert was first elected to the 10th Knesset in 1981. In the 16th Knesset he has served as a member of the Internal Affairs and Environment Committee, Labor and Welfare, and Internal Affairs Committees. He previously served, among others, on the Education, Culture, and Sports, Anti-Drug Abuse, Immigration and Absorption, Science and Technology, Labor and Welfare, Foreign Affairs & Defense, and Internal Affairs and Environment Committees.
From November 1990 until June 1991, he served as Deputy Minister in the Ministry in the Prime Minister's Office and from from June 1991 until July 1992 as Deputy Minister of Labor and Social Welfare.
In March 2005, Shmuel Halpert was appointed Deputy Minister of Transportation.
He is married and the father of six.
---
Sources: Israeli Ministry of Foreign Affairs