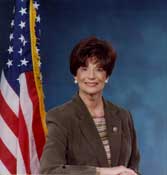 Shelley Berkley is a Jewish American politican who served in the U.S. House of Representatives.
Berkley (born January 20, 1951) was born in New York City to a family of Russian and Greek Jewish heritage. She moved with her family to Nevada while in middle school and later became the first member of her family to attend college when she enrolled as an undergraduate at the University of Nevada, Las Vegas. She graduated from UNLV with honors in 1972, earning a B.A. in political science.
In 1976, Berkley completed her law degree at the University of San Diego and returned to Las Vegas to begin her professional career. From 1982 to 1984, Berkley served in the Nevada State Assembly.
In 1998, Berkley won election to represent Nevada's 1st district in the U.S. House of Representatives, a position she held through seven consecutive terms until January 2013.
In April 2011, Berkley announced that she would run for the Nevada Senate seat to succeed John Ensign and she secured the Democratic nomination but narrowly lost the general election to Dean Heller.
Shelley is the mother of two sons – Max and Sam.
---
Sources: Congressman Shelly Berkley; Wikipedia