Selman Waksman
(1888 - 1973)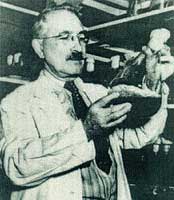 Selman Abraham Waksman was born on July 22, 1888, in Priluky, Ukraine. In 1910, he obtained his matriculation diploma from the Fifth Gymnasium in Odessa, Ukraine. Following graduation, he immigrated to the United States, where he graduated from Rutgers University in 1915 with a B.Sc. degree in Agriculture.
He performed research in soil bacteriology under Dr. J. G. Lipman at the New Jersey Agricultural Experiment Station before being awarded his M.Sc. degree in 1916. That same year Waksman became a naturalized citizen and was appointed a Research Fellow at the University of California, Berkeley where he earned his Ph.D. in Biochemistry in 1918. He later joined the faculty at Rutgers University in the Department of Biochemistry and Microbiology; he was appointed Associate Professor in 1925 and Professor in 1930. In 1940, he became Professor of Microbiology and Head of the Department of Microbiology. It was at Rutgers that Waksman discovered several antibiotics, including streptomycin in 1943, and neomycin 1948. In 1949, Waksman became Director of the Institute of Microbiology, retiring from the position in 1958.
A few of Waksman's studies include microbiological population of the soil, decomposition of plant and animal residues, and formation of bacteria in the sea and its role in marine biology.
In 1952, Waksman was awarded the Nobel Prize for Medicine for his discovery of streptomycin. Waksman is also a former President of the American Society for Microbiology.
He has published more than 400 scientific papers and 18 books. Three of the books that Waksman authored include: Enzymes (1926), Principles of Soil Microbiology (1938), and an autobiography My Life with the Microbes (1954).
Waksman died on August 16, 1973, in Woods Hole, Massachusetts.
---
Sources: Wikipedia; Nobel Prize