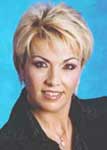 Ruhama Avraham was born in Rishon Letzaion in 1964. After completing her army service, she received a B.A. in political science from Bar Ilan University.
Elected to the 16th Knesset in 2003, she served as a member of the Finance and Economics Committees, as well as of the Committees for the Advancement of the Status of Women and for Foreign Workers.
Ruhama Avraham served as Deputy Minister of the Interior from March 2005 until May 2006. In July 2007, she was appointed Minister without Portfolio, responsible for liaison with the Knesset, which she held until 2009. She was a member of Knesset for Likud and then Kadima between 2003 and 2013.
She is the mother of two.
---
Sources: Israeli Ministry of Foreign Affairs, Wikipedia