Rudolph "Rudy" Boschwitz
(1930 - )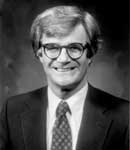 Rudolph Eli "Rudy" Boschwitz is a Jewish American politician and former U.S. Senator from Minnesota.
Boschwitz (born November 7, 1930) was born in Berlin, Germany. When he was three, his family fled Nazi Germany and settled in New Rochelle, New York. He attended Johns Hopkins University in Baltimore and graduated from New York University School of Business in 1950 and New York University Law School in 1953.
Boschwitz was admitted to the New York bar in 1954 and the Wisconsin bar in 1959. He commenced practice in New York City in 1956 and also served in the United States Army Signal Corps (1954-1955). Boschwitz also was founder and chairman of a plywood firm.
In November 1978, Boschwitz was elected as a Republican to the United States Senate and subsequently appointed to fill the vacancy caused by the resignation of Wendell B. Anderson for the term ending January 3, 1979. He was reelected in 1984 but was defeated for reelection again in 1990 and in a further comeback effort in 1996.
In 2005, President George W. Bush named Boschwitz as the United States Ambassador to the United Nations Commission on Human Rights, which met at the U.N. in Geneva, Switzerland.
He now lives in Minneapolis and serves on the Board of Directors of the Jewish Institute for National Security Affairs, is an AIPAC Board Member and is a member of the Council on Foreign Relations.
---
Sources: Biographical Directory of the United States Congress; Wikipedia; Photo U.S. Senate Historical Office.