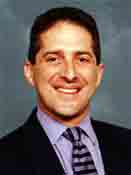 Ronald Klein is a Jewish American politician and lawyer who has previously served in the U.S. House of Representatives.
Klein (born July 10, 1957) was born in Cleveland, Ohio, and graduated from Ohio State University with a degree in political science in 1979. Klein also attended Case Western Law School and graduated with a J.D. in 1982.
In 1992, Klein defeated a ten-year incumbent and took a seat in the Florida House of Representatives. He was elected to the Florida State Senate in 1996 and served as Minority Whip in 1998 and Minority Leader from 2003 to 2004. While serving in the State Legislature, Klein built a reputation for his work on technology, criminal justice, healthcare, education, and gun control. His Holocaust Education Act mandated the study of the Holocaust in all of Florida's public schools.
In November 2006, Klein was elected as the representative of the 22nd district of Florida to the House of Representatives, defeating 13-term Republican incumbent Clay Shaw. A combination of Klein's fundraising ability, voting record in state politics, and friendship with Robert Wexler, allowed him to successfully unseat Shaw.
In 2008, Klein won in his first reelection campaign against challenger Allen West but lost to West in a rematch in 2010. After leaving Congress, Klein was hired by the Holland & Knight law firm.
Klein married Dori Dragin in 1982 and they moved to Boca Raton, Florida in 1985. They have two children.
---
Sources: Klein for Congress, Wikipedia