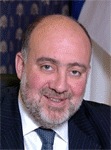 Ron Prosor is an Israeli diplomat currently serving as the 15th Israeli Ambassador to the United Nations.
Born in Israel, Prosor was drafted into the IDF and served in the Artillery Corps where he eventually attained the rank of Major. After his service in the military, Prosor attended the Hebrew Univeristy of Jerusalem and later graduated with distinction from that institution with a masters degree in political science. He began his career as a writer and political analyst and commentator on Israel and the Middle East and succeeded in having his works published in many newspaper and magazines, including the Daily Telegraph, the Times, and the Guardian.
In 2003, Prosor began his still ongoing service for the Israeli government when he was appointed as Deputy Director General of the Ministry of Foreign Affairs for Strategic Affairs, Counter Terrorism and Nuclear Disarmament. The following year he served as the Chief of Staff to Foreign Minister Silvan Shalom and also later was the Senior Deputy Director General of the Ministry of Foreign Affairs.
From 2004 to 2007, Prosor served as the Ministry's Director General and oversaw a number of critical overseas operations that helped Israel build new and renewed diplomatic relations. For instance, after the tsunami devasted Sri Lanka and Indonesia, Prosor worked with Foreign Minister Tzipi Livni to deliver medical aid and supplies, an act that helped lead to the first political dialogues between the Muslim country and Israel. He also helped reestablish diplomatic ties between Israel and the Vatican.
In November 2007, Queen Elizabeth II of England accepted Prosor's credentials and he was officially named the Israeli Ambassador to the United Kingdom. He served in that post until June 2011 when he replaced Gabriela Shalev as Israel's Ambassador to the United Nations.
Prosor and his wife Hadas have three children.
---
Sources: Mission of Israel to the UN, Wikipedia