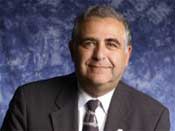 Richard M. Joel was inaugurated on September 21, 2003, as Yeshiva University's fourth president in its 118-year-history.
In assuming the leadership of one of the nation's top academic research universities at his investiture, he put forth a vision that embraces time-honored values in a 21st century context. That includes his desire to ennoble YU students' deepest human needs of intellectual curiosity and discovery, and to educate and enable them to care for others and contribute to society. The pillars of his vision are nobility of purpose, excellence in education and endeavor, community building and communal responsibility, and a visceral connection with Israel and its people.
President Joel's success in revitalizing Jewish campus life and activism defined his 14 years as president and international director of Hillel: The Foundation for Jewish Campus Life, where he greatly expanded programs, activities, and branches in the nation and around the world.
Richard M. Joel's presidency is the latest chapter in the illustrious tradition of YU Presidents, beginning with Bernard Revel z"tl (1915-1940), Dr. Samuel Belkin z"tl (1940-1975), and Dr. Lamm (1976-2003).
Richard M. Joel received his bachelor's and law degrees from New York University, where he was a Root-Tilden law scholar. He received an honorary doctoral degree from Boston Hebrew College. President Joel was an assistant district attorney in New York, an associate dean at YU's Benjamin N. Cardozo School of Law, and member of its faculty.
President Joel and his wife, Esther, who holds a Ph.D. from YU's Ferkauf Graduate School of Psychology, have six children, three of whom, Avery, Penny, and Ariella, are graduates of Yeshiva College and Stern College for Women. Avery, also a graduate of Azrieli Graduate School of Jewish Education, is finishing his semikhah program at RIETS. He is married to Aliza Schwartz, a graduate of Stern College and the Azrieli Graduate School. Noam will attend Yeshiva College in the fall, having completed his second year at Yeshivat Sha'alvim in Israel as part of YU's S. Daniel Abraham Israel Program. Nachum is a student at Yeshiva University High School for Boys/The Marsha Stern Talmudical Academy, and Kira recently graduated from SAR Academy in Riverdale.
---
Sources: Yeshiva University