Rabbi Ovadia Yosef
(1920 - 2013)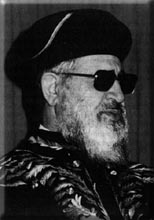 Haim Ovadia Yosef was a former Sephardi Chief Rabbi of Israel and one of the foremost Talmudic authorities of his generation.
Yosef (born September 23, 1920; died October 7, 2013) was born in Baghdad under the name Ovadia Yosef Ovadia, or Abdullah Youseff in his native Arabic. At the age of four, Yosef immigrated with his family to Palestine where they settled in Jerusalem. At age 20 he received rabbinical ordination from Rav Ben-Zion Ouziel. In 1945 he was appointed a dayan or judge of the Sephardi Bet Din (rabbinical court) in Jerusalem.
In 1947, at the invitation of Rabbi Aharon Chouke, Yosef moved to Cairo, Egypt where he was elected head of the bet din and also became deputy chief rabbi of Egypt. Ovadia published his first work at the age of 18 in Cairo, and while there he refused to speak against the State of Israel and forbade Jewish contributions to the Egyptian military. He also insisted on his right to speak in Hebrew.
After the State of Israel was established in 1948, Yosef returned to Israel and was appointed a member of the rabbinical court of Petah Tikva. From 1958 to 1965, he held the same position in Jerusalem. In 1965, he was appointed a member of the Supreme Rabbinical Court of Appeals in Jerusalem, and in 1968, he attained the role of Sephardi Chief Rabbi of Tel Aviv-Jaffa. He was awarded the Israel Prize for Torah literature in 1970 in recognition of both the quality and quantity of his work.
In 1973, Yosef was appointed as the Sephardi Chief Rabbi of Israel (also known as the Rishon le-Zion) by a majority of 81 to 68 votes, replacing Yitzhak Nissim. In 1984, he became spiritual mentor of the Shas political party.
In April 2005, Israeli security services arrested three members of the Popular Front for the Liberation of Palestine (PFLP), who had been observing Yosef in public and were held on the suspicion of intended murder.
Rabbi Ovadia Yosef passed away on October 7, 2013 of multiple organ failure after a history of medical issues. His funeral in Jerusalem attracted approximately 800,000 people from across Israel - 10% of Israel's total population - and is considered one of the largest gatherings of Jews in recorded history.
---
Sources: The Pedagogic Center, The Department for Jewish Zionist Education, The Jewish Agency for Israel, (c) 1997, 1998, 1999, 2000, Director: Dr. Motti Friedman, Webmaster: Esther Carciente.
Wikipedia.
New York Times (October 7, 2013).
Jerusalem Post (October 7, 2013).