Rabbi Jonathan Eybeschutz
(1690-1764)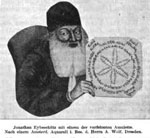 Jonathan (Yehonossan) Eybeschutz was born in Kraków, Poland in 1690 into a deeply religious family. His father was Rabbi Nosson Nota and Eybeschutz began studying Talmud at a young age, becoming a young prodigy in religious practice. Nota died when Eybeschutz was young, leaving him an orphan. Eybeschutz's great grandfather was the Kabbalistic author Nathan Spira.
After his father's death in 1702, Eybeschutz was sent to study the Torah at the Yeshiva of the great Rabbi Meir Eisenstadt in Monrovia. Soon after he arrived his mother also passed away, and he was put in foster care with the Chief Rabbi of Prague, Rabbi Isaac Spira. Eybeschutz married the Rabbi's daughter, Elkele, and lived in his house studying the Torah and Talmud. He soon became known as a brilliant Jewish scholar.
In 1711, at the age of 21, Eybeschutz was placed in charge of the famous Yeshiva in Prague where he became wider known as a great teacher and orator and excelled in his studies. He left the Yeshiva after a short while and spent an extended amount of time in the study of his wife's grandfather, a well learned man in Hamburg Germany named Mordechai ha-Kohen.
Returning to Prague in 1715, he established his own Yeshiva and quickly attracted many eager young scholars who had yearned for his return to the city. His reputation as a fantastic teacher and well-versed scholar afforded him much success when he returned to Prague. While in Prague he obtained permission from the Bishop of the city to print the Christian ideals. As a stipulation however, Eybeschutz had to omit any parts that were deemed as anti-Christian by the Church.
His printing license was revoked in 1724 when he was accused of being a Sabbatean, or a follower of Rabbi Shabbetai Zvi who claimed to be the Messiah in 1665. Even after publicly denouncing the Sabbatean movement and signing the excommunication of the followers of Rabbi Zvi these accusations persisted and as a result Eybeschutz was named dayan of Prague and not Chief Rabbi in 1736.
He left Prague and attempted to join the elected Rabbinate of the city of Metz, France, to distance himself from his accusers. He failed during his first attempt but Eybeschutz was elected Chief Rabbi in Metz in the year 1941. He once again faced hostility from some of his congregants in Metz and, in 1750, left to become the rabbi of the three communities Altona, Hamburg, and Wandsbeck.
After arriving in Altona, the local population once again began accusing him of being a Sabbatean and the controversy became heated and intense. Rabbi Jacob Emden produced amulets that supposedly Eybeschutz had been giving to sick members of the population that he said had Sabbatean meaning and messages hidden within them. The amulets' inscriptions read: "In the name of Jahve, the God of Israel, who dwelleth in the beauty of His strength, the God of His anointed one Shabbethai Ẓebi, who with the breath of His lips shall slay the wicked, I decree and command that no evil spirit plague, or accident harm, the bearer of this amulet."
Emden was labelled a slanderer by the community, the majority of whom had immense respect and admiration for Eybeschutz. Tensions in the town got so heated that Emden was forced to leave town and flee to Amsterdam in 1751. There, Emden pursued legal action against Eybeschutz and the town of Altona in the court of Frederick V of Denmark. The court ruled in favor of Emden, and ordered the town of Altona to stop all actions against Emden and allow him to return to his Synagogue and practice. Emden returned to Altona in mid-1752 and the Hamburg government ordered that nothing more be spoken of Eybeschutz and his amulets. The senate of Hamburg subsequently suspended Eybeschutz after which he was compelled by his congregants in Altona to bring his case before the Council of the Four Lands who established his innocence and re-established him as a prominent Rabbi.
After this case, Eybeschutz lived the remaining 10 years of his life in peace, studying the Torah and Talmud and publishing seminal works in Rabbinic literature and Jewish law. Eybeschutz was recognized by the King of Denmark and the Senate of Hamburg for his outstanding contributions to Judaism and was appointed Chief Rabbi of Hamburg, Altona, and Wandsbeck.
Thirty of his works in the area of halakhah have been published. In addition, several of his works on homiletics, teaching methodology, and Kabbala are currently in print. Only one of his works was published in his lifetime. The posthumous printing of so many of his works is testimony to his influence on his contemporaries.
---
Sources: Jewish Encyclopedia; Chabad; Encyclopedia Brittanica; Orthodox Union.