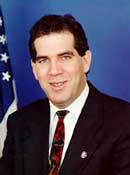 Peter Deutsch is a Jewish American politician and former member of the U.S. House of Representatives.
Deutsch (born April 1, 1957) was born in the Bronx, New York. He first expressed interest in public service as a college intern for the U.S. Senate Judiciary Committee. Deutsch graduated from Swarthmore College in 1979 and went on to graduate from Yale University Law School in 1982. After graduating from law school, Deutsch moved to Florida and established a nonprofit health care advocacy organization.
Deutsch was first elected to the Florida House of Representatives in 1982, at the age of 25, and won reelection four times, serving for a total of ten years. He served on the Veterans Affairs Committee, the Health Care Committee, the Criminal Justice Committee, and later, went on to serve as the Chairman of the Insurance Committee.
In 1992, Deutsch ran for and won a seat in the U.S. House of Representatives. He was subsequently re-elected five times, serving a total of twelve years in office. In 2000 and 2002, he actually ran unopposed for reelection. Deutsch served on the House Committee on Commerce, where he was a member of the subcommittees on Finance and Hazardous Materials, Energy and Power, and Health and Environment.
In 2004, Deutsch delcared his candidacy for U.S. Senate, but was defeated in the Democratic primary by Betty Castor.
Deutsch lives in Broward County, Florida, with his wife, Lori, and their two children, Jonathan and Danielle.
---
Sources: Congressman Peter Deutsch; Wikipedia