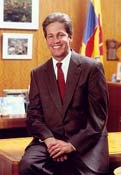 Norm Coleman is a Jewish American politician and lawyer who formerly served in the U.S. Senate.
Coleman (born August 17, 1949) was born in Brooklyn, New York. He received a B.A. from Hofstra University and a J.D. (with high honors) from the University of Iowa. He served in the Minnesota Attorney General's office for 17 years as chief prosecutor and solicitor general of the state of Minnesota.
In 1993, Coleman won election for mayor of Saint Paul as a Democrat. He joined the Republican party in 1996 and was reelected to his post in 1997, becoming the first Republican mayor of Saint Paul in over 25 years.
Coleman was the Republican nominee for governor in Minnesota in 1998 but narrowly lost to Jesse Ventura. He continued to serve as mayor of Saint Paul until 2002 when he was pursuaded to drop a second bid run for governor and ran against incumbent Democrat Paul Wellstone in the U.S. Senate.
In October 2002, Wellstone was tragically killed in a plane crash and Walter Mondale, a former Minnesota Senator, took over his seat. Coleman defeated Mondale in the election by a margin of just over 61,000 votes.
In November 2008, Coleman ran for reelection against Al Franken and was narrowly defeated after a formal recount put Franken in the lead by only 225 votes. Despite various appeals and a very public counting of previously discarded absentee ballotts, Franken was still declared the winner.
After the loss, Coleman accepted a position as an adviser and board member for the Republic Jewish Coalition.
Norm and his wife, Laurie, have two children.
---
Sources: U.S. Senate; Wikipedia