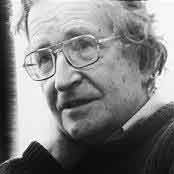 Avram Noam Chomsky is an American linguist, philosopher, cognitive scientist, political activist, author, and lecturer. He is an Institute Professor emeritus and professor emeritus of linguistics at the Massachusetts Institute of Technology. Chomsky is well known in the academic and scientific community as the father of modern linguistics. Since the 1960s, he has become known more widely as a political dissident, an anarchist, and a libertarian socialist intellectual.
Chomsky was born to Jewish parents in Philadelphia, Pennsylvania, the son of Hebrew scholar and IWW member William Chomsky (1896–1977), who was from a town in Ukraine. His mother, Elsie Chomsky, came from what is now Belarus. In the home, the family chose to speak English and Hebrew instead of Yiddish.
At the age of ten, Chomsky wrote his first article on the threat of the spread of fascism, following the fall of Barcelona in the Spanish Civil War. From then on, Chomsky is said to have identified with anarchist politics.
Chomsky began studying philosophy and linguistics at the University of Pennsylvania in 1945, learning from philosophers C. West Churchman and Nelson Goodman and linguist Zellig Harris. Chomsky received a BA in 1949 and an MA in 1951 from the University of Pennsylvania.
In 1949, he married linguist Carol Schatz. They had two daughters, Aviva and Diane and a son, Harry.
Chomsky received his PhD in linguistics from the University of Pennsylvania in 1955. He conducted part of his doctoral research during four years at Harvard University as a Harvard Junior Fellow. In his doctoral thesis, he began to develop some of his linguistic ideas, elaborating on them in his 1957 book Syntactic Structures, his best-known work in linguistics.
In the 1950s, Chomsky began developing his theory of generative grammar, which has undergone numerous revisions and has had a profound influence on linguistics. He also established the "Chomsky hierarchy", a classification of formal languages in terms of their generative power. His 1959 review of B. F. Skinner's Verbal Behavior challenged the behaviorist approaches to studies of behavior and language dominant at the time and contributed to the cognitive revolution in psychology.
Chomsky joined the staff of the Massachusetts Institute of Technology (MIT) in 1955 and in 1961 he was appointed full professor in the Department of Modern Languages and Linguistics. From 1966 to 1976 he held the Ferrari P. Ward Professorship of Modern Languages and Linguistics, and in 1976 he was appointed Institute Professor. Chomsky has taught at MIT for 53 years.
In February 1967, Chomsky became one of the leading opponents of the Vietnam War with the publication of his essay, "The Responsibility of Intellectuals". This was followed by his 1969 book, American Power and the New Mandarins, a collection of essays which established him at the forefront of American dissent. His far-reaching criticisms of U.S. foreign policy and the legitimacy of U.S. power have made him a controversial figure: largely shunned by the mainstream media in the United States, he is frequently sought out for his views by publications and news outlets worldwide.
Chomsky has received death threats because of his criticisms of U.S. foreign policy. He was also on a list of planned targets created by Theodore Kaczynski, better known as the Unabomber. He often receives undercover police protection while on the MIT campus.
Throughout his years at MIT, Chomsky has been asked to speak at numerous conferences and has received many honorary degrees from universities around the world
He is a member of the American Academy of Arts and Sciences, the National Academy of Sciences, and the American Philosophical Society. In addition, he is a member of other professional and learned societies in the United States and abroad, and is a recipient of the Distinguished Scientific Contribution Award of the American Psychological Association, the Kyoto Prize in Basic Sciences, the Helmholtz Medal, the Dorothy Eldridge Peacemaker Award, the Ben Franklin Medal in Computer and Cognitive Science, and others.
He is twice winner of The Orwell Award, granted by The National Council of Teachers of English for "Distinguished Contributions to Honesty and Clarity in Public Language".
In February 2008, Chomsky received the President's Medal from the Literary and Debating Society of the National University of Ireland, Galway.
Chomsky was voted the leading living public intellectual in The 2005 Global Intellectuals Poll conducted by the British magazine Prospect. In a list compiled by the magazine New Statesman in 2006, he was voted seventh in the list of Heroes of Our Time.
Chomsky's views on Israel, his criticism of its policies and his writings on the Middle East, have been frequently criticized.
Alan Dershowitz and David Mamet have also claimed that Chomsky tolerates violence against Israelis. Dershowitz claims in The Case for Israel, that Chomsky has falsely referred to Palestinians as "indigeneous people" and Jews as "immigrants," held double standards on racism and has blamed Israel solely for the 1948 refugee crisis.
Chomsky has also been criticized for his alleged support of militant organizations such as Hezbollah which use antisemitic rhetoric. He also supported the arming of Hezbollah in Lebanon in 2006.
Chomsky is often criticized by the Jewish community for being an anti-Semite. He denies these accusations.
---
Sources: The Noam Chomsky Website, Wikipedia