Myths&Facts Online - Israel and Lebanon
"The PLO posed no real threat to Israel. When Israel attacked, the PLO had been observing a year-long cease-fire agreement."
"The PLO treated the Lebanese with dignity and respect."
"Israel was responsible for the massacre of thousands of innocent Palestinian refugees at Sabra and Shatila."
"Israel still has not satisfied the UN's requirements to withdraw completely from Lebanon because of its illegal occupation of Shebaa Farms."
"Syria has been a force for stability and good in Lebanon."
"Syria intervened in Lebanon only because it was asked to do so by the Arab League."
"The PLO posed no threat to Israel and was observing a cease-fire when Israel attacked Lebanon."
FACT
The PLO repeatedly violated the July 1981 cease-fire agreement. By June 1982, when the IDF went into Lebanon, the PLO had made life in northern Israel intolerable, by its repeated shelling of Israeli towns.
In the ensuing 11 months, the PLO staged 270 terrorist actions in Israel, the West Bank and Gaza, and along the Lebanese and Jordanian borders. Twenty-nine Israelis died, and more than 300 were injured in the attacks.1 The frequency of attacks in the Galilee forced thousands of residents to flee their homes or to spend large amounts of time in bomb shelters.
A force of some 15-18,000 PLO members was encamped in scores of locations in Lebanon. About 5,000-6,000 were foreign mercenaries, coming from such countries as Libya, Iraq, India, Sri Lanka, Chad and Mozambique.2 The PLO had an arsenal that included mortars, Katyusha rockets, and an extensive anti-aircraft network Israel later discovered enough light arms and other weapons in Lebanon to equip five brigades.3 The PLO also brought hundreds of T-34 tanks into the area.4 Syria, which permitted Lebanon to become a haven for the PLO and other terrorist groups, brought surface-to-air missiles into that country, creating yet another danger for Israel.
Israeli strikes and commando raids were unable to stem the growth of this PLO army. Israel was not prepared to wait for more deadly attacks to be launched against its civilian population before acting against the terrorists.
After Israel launched one such assault on June 4-5, 1982, the PLO responded with a massive artillery and mortar attack on the Israeli population of the Galilee. On June 6, the IDF moved into Lebanon to drive out the terrorists.
Former Secretary of State Henry Kissinger defended the Israeli operation: "No sovereign state can tolerate indefinitely the buildup along its borders of a military force dedicated to its destruction and implementing its objectives by periodic shellings and raids."5
"The PLO treated the Lebanese with dignity and respect."
FACT
For Arab residents of south Lebanon, PLO rule was a nightmare. After the PLO was expelled from Jordan by King Hussein in 1970, many of its cadres went to Lebanon. The PLO seized whole areas of the country, where it brutalized the population and usurped Lebanese government authority.
On October 14, 1976, Lebanese Ambassador Edward Ghorra told the UN General Assembly the PLO was bringing ruin upon his country: "Palestinian elements belonging to various splinter organizations resorted to kidnapping Lebanese, and sometimes foreigners, holding them prisoner, questioning them, and even sometimes killing them."6
Countless Lebanese told harrowing tales of rape, mutilation and murders committed by PLO forces. The PLO "killed people and threw their corpses in the courtyards. Some of them were mutilated and their limbs were cut off. We did not go out for fear that we might end up like them," said two Arab women from Sidon. "We did not dare go to the beach, because they molested us, weapons in hand." The women spoke of an incident, which occurred shortly before the Israeli invasion, in which PLO men raped and murdered a woman, dumping her body near a famous statue. A picture of the victim's mangled corpse had been printed in a local newspaper.7
New York Times correspondent David Shipler visited Damour, a Christian village near Beirut, which had been occupied by the PLO since 1976, when Palestinians and Lebanese leftists sacked the city and massacred hundreds of its inhabitants. The PLO, Shipler wrote, had turned the town into a military base, "using its churches as strongholds and armories."8
When the IDF drove the PLO out of Damour in June 1982, Prime Minister Menachem Begin announced that the town's Christian residents could come home and rebuild. Returning villagers found their former homes littered with spray-painted Palestinian nationalist slogans, Fatah literature and posters of Yasser Arafat. They told Shipler how happy they were that Israel had liberated them.9
"Israel was responsible for the massacre of thousands of Palestinian refugees at Sabra and Shatila."
FACT
:The Lebanese Christian Phalangist militia was responsible for the massacres that occurred at the two Beirut-area refugee camps on September 16-17, 1982. Israeli troops allowed the Phalangists to enter Sabra and Shatila to root out terrorist cells believed located there. It had been estimated that there may have been up to 200 armed men in the camps working out of the countless bunkers built by the PLO over the years, and stocked with generous reserves of ammunition.10
When Israeli soldiers ordered the Phalangists out, they found hundreds dead (estimates range from 460 according to the Lebanese police, to 700-800 calculated by Israeli intelligence). The dead, according to the Lebanese account, included 35 women and children. The rest were men: Palestinians, Lebanese, Pakistanis, Iranians, Syrians and Algerians.11 The killings were perpetrated to avenge the murders of Lebanese President Bashir Gemayel and 25 of his followers, killed in a bomb attack earlier that week.12
Israel had allowed the Phalange to enter the camps as part of a plan to transfer authority to the Lebanese, and accepted responsibility for that decision. The Kahan Commission of Inquiry, formed by the Israeli government in response to public outrage and grief, found that Israel was indirectly responsible for not anticipating the possibility of Phalangist violence. Subsequently, Defense Minister Ariel Sharon resigned and the Army Chief of Staff, Gen. Raful Eitan, was dismissed.
The Kahan Commission, declared former Secretary of State Henry Kissinger, was "a great tribute to Israeli democracy....There are very few governments in the world that one can imagine making such a public investigation of such a difficult and shameful episode."13
:Ironically, while 300,000 Israelis protested the killings, little or no reaction occurred in the Arab world. Outside the Middle East, a major international outcry against Israel erupted over the massacres. The Phalangists, who perpetrated the crime, were spared the brunt of the condemnations for it.
By contrast, few voices were raised in May 1985, when Muslim militiamen attacked the Shatila and Burj-el Barajneh Palestinian refugee camps. According to UN officials, 635 were killed and 2,500 wounded. During a two-year battle between the Syrian-backed Shiite Amal militia and the PLO, more than 2,000 people, including many civilians, were reportedly killed. No outcry was directed at the PLO or the Syrians and their allies over the slaughter. International reaction was also muted in October 1990 when Syrian forces overran Christian-controlled areas of Lebanon. In the eight-hour clash, 700 Christians were killed — the worst single battle of Lebanon's Civil War.14These killings came on top of an estimated 95,000 deaths that had occurred during the civil war in Lebanon from 1975-1982.15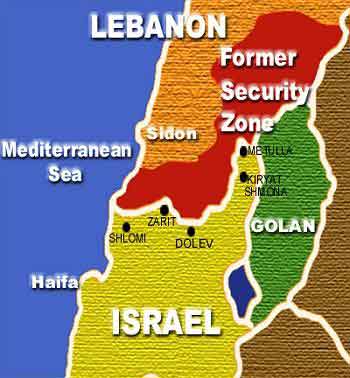 "Israel still has not satisfied the UN's demand to withdraw completely from Lebanon because of its illegal occupation of Shebaa Farms."
FACT
Despite the UN ruling that Israel completed its withdrawal from southern Lebanon,16 Hizballah and the Lebanese government insist that Israel still holds Lebanese territory in eastern Mount Dov, a 100-square-mile, largely uninhabited patch called Shebaa Farms. This claim provides Hizballah with a pretext to continue its activities against Israel. Thus, after kidnapping three Israeli soldiers in that area, it announced that they were captured on Lebanese soil.
Israel, which has built a series of observation posts on strategic hilltops in the area, maintains that the land was captured from Syria; nevertheless, the Syrians have supported Hizballah's claim. The controversy benefits each of the Arab parties, according to the Washington Post. "For Syria, it means Hezbollah can still be used to keep the Israelis off balance; for Lebanon, it provides a way to apply pressure over issues, like the return of Lebanese prisoners still held in Israeli jails. For Hezbollah, it is a reason to keep its militia armed and active, providing a ready new goal for a resistance movement that otherwise had nothing left to resist."17
In January 2005, the UN Security Council adopted a resolution condemned the violence along the Israel-Lebanon border and reasserted that the Lebanese claim to the Shebaa Farms area is "not compatible with Security Council resolutions" affirming that Israel completely withdrew from Lebanon.
In October 2008, United Nations Secretary General Ban Ki-moon released a report calling Hizballah a threat to Middle East security. The report concluded that by continuing to maintain a militia, Hizballah poses a "direct challenge to the authority of the government of Lebanon. This report, sent to a number UN Security Council members, stated "Hizballah's maintenance of a major armed component and a para-military infrastructure separate from the state, including a secure network of communication, which the group itself deems an integral part of its arsenals, is a direct challenge to the authority of the government of Lebanon and its security forces and prevents their exclusive conrol over the entire territory of Lebanon."17a
In November 2008, Nawaf Musawi, Hizballah's head of international relations, told Norway's ambassador to Lebanon that portions of northern Israel belong to Lebanon. He referred to the Blue Line, the border demarcation accepted by the United Nations in 2000 after Israeli forces withdrew from southern Lebanon, as merely a "withdrawal line." Musawi's comments have been interpreted to mean that Hizballah has territorial demands that extend beyond the Shebaa Farms and into northern Israel.17b
"If they go from Shebaa, we will not stop fighting them. Our goal is to liberate the 1948 borders of Palestine...[Jews] can go back to Germany or wherever they came from."
— Hezbollah spokesperson Hassan Ezzedin18
"Syria has been a force for stability and good in Lebanon.
FACT
Damascus has a long and bloody history of intervention in Lebanon, and has made no secret of its hope to make its weaker neighbor part of Syria. Since the creation of contemporary Lebanon in 1920, "most Syrians have never accepted modern Lebanon as a sovereign and independent state."19 The outbreak of the Lebanese Civil War in 1975 gave Damascus the opportunity to act on its belief that Lebanon and Syria are one.
In 1976, Syria intervened in the Lebanese civil war on behalf of Lebanese Christians. By 1978, Damascus had switched sides, and was supporting a leftist coalition of Palestinians, Druze and Muslims against the Christians. Eventually, Syrian troops occupied two-thirds of Lebanon. Syria's deployment of surface-to-air missile batteries in Lebanon, and its policy of allowing the PLO and other terrorist groups to attack Israel from there, helped trigger the 1982 Lebanon War.20
During the first week of Israel's "Operation Peace for Galilee," in June 1982, Syrian troops engaged in battles with Israeli forces. The Israelis destroyed or damaged 18 of the 19 Syrian missile batteries and, in one day, shot down 29 Syrian MiG fighters without the loss of a single plane. Syria and Israel carefully avoided confrontations for the remainder of the war.
Nevertheless, Syria found other ways to hurt Israel. In 1982, Syrian agents murdered President-elect Bashir Gemayel, who wanted peace with Israel. Two years later, Syria forced President Amin Gemayel, Bashir's brother, to renege on a peace treaty he signed with Israel a year earlier.21
Syria's activities were aimed not only at Israel, but also at the West. In April 1983, Hizballah terrorists, operating from Syrian-controlled territory, bombed the U.S. embassy in Beirut, killing 49 and wounding 120. Six months later, Hizballah terrorists drove two trucks carrying explosives into the U.S. Marine and French military barracks near Beirut, killing 241 Americans and 56 French soldiers.
In 1985, Hizballah operatives began kidnapping Westerners off the streets of Beirut and other Lebanese cities. From the beginning, it was clear the Syrians and their Iranian collaborators could order the release of the Western hostages at any time. For example, when a Frenchman was kidnapped in August 1991, the Syrians demanded that he be freed. Within days, he was. Most of the hostages were held in the Bekaa Valley or the suburbs of Beirut. Both areas were controlled by Syria.
From 1985-88, Amal Shiite militiamen, closely aligned with Syria, killed hundreds of Palestinian civilians in attacks on refugee camps.
In October 1990, with the West's attention focused on Kuwait, Syrian troops stormed the Beirut stronghold of Christian insurgent Gen. Michel Aoun. Besides battle deaths, approximately 700 people were massacred.22 With that blitzkrieg, Damascus wiped out the only remaining threat to its hegemony in Lebanon.
On May 22, 1991, Lebanese President Elias Hrawi signed a treaty with Syrian President Hafez Assad that said Syria would ensure Lebanon's "sovereignty and independence," even though Damascus was allowed to keep its occupation army in that country.
A hint of Syria's real intentions came earlier when Defense Minister Mustafa Tlas predicted that unity would be achieved between the two countries "soon, or at least in our generation."23
After signing the treaty, Syria kept a tight grip on Lebanon and ruthlessly suppressed challenges to its domination. The situation changed dramatically, however, after Syria was suspected of playing a role in the assassination of former Lebanese Prime Minister Rafik Hariri on February 14, 2005. The UN also adopted a resolution calling for the withdrawal of non-Lebanese forces and an investigation into the killing. Syria subsequently removed its remaining troops from Lebanon, but still exerts a great deal of influence through "political patronage and behind-the-scenes alliances."24
"Syria intervened in Lebanon only because it was asked to do so by the Arab League."
FACT
Syria moved troops into Lebanon before receiving the Arab League's approval. Damascus intervened in April 1976 after Lebanese Druze warlord Kemal Jumblatt refused Syrian President Hafez Assad's demand for a cease-fire in the war. Jumblatt's refusal to stop his forces' attacks upon Lebanese Christians gave Assad the pretext he needed to intervene.
In June 1976, the Arab League Secretariat convened a meeting at which Syria, Libya, Saudi Arabia and the Sudan agreed to send troops to "enforce peace." Assad sent more Syrian troops into the country, while the others sent only token forces.25 The Arab League's "endorsement," in short, constituted nothing more than the recognition of a fait accompli.
Notes
1Jillian Becker, The PLO, (London: Weidenfeld and Nicolson, 1984), p. 205.
2Becker, pp. 202, 209.
3Jerusalem Post, (June 28, 1982).
4Quoted in Raphael Israeli ed., PLO in Lebanon, (London: Weidenfeld and Nicolson, 1983), p. 7.
5Washington Post, (June 16, 1982).
6Israeli, p. 259. See also New York Times, (October 15, 1976); Official Records of the General Assembly, Thirty-first Session, Plenary Meetings, 32nd meeting.
7Interview with Israel Television, (July 23, 1982).
8 New York Times, (June 21, 1982).
9New York Times, (June 21, 1982).
10Zeev Schiff and Ehud Yaari, Israel's Lebanon War, (NY: Simon and Schuster, 1984), p. 70.
11Becker, p. 212.
12Schiff and Yaari, p. 257.
13Washington Post, (February 8, 1983).
14New York Times, (October 19, 1990).
15Becker, p. 212.
16"Security Council Endorses Secretary-General's Conclusion on Israeli Withdrawal from Lebanon as of 16 June," UN Press Release, (June 18, 2000).
17Washington Post, (January 30, 2001).
17a "UN Chief Says Hizbullah a Threat to Middle East Security, " RTTNews, NASDAQ.
17bYoav Stern, "Hezbollah: Large Swaths of North Israel Belong to Lebanon, " Haaretz, (November 4, 2008).
18New Yorker, (October 14, 2002).
19Daniel Pipes, Damascus Courts The West, (DC: The Washington Institute for Near East Policy, 1991), p. 26.
20Becker, pp. 204-205.
21Patrick Seale, Asad, (Berkeley: University of California Press, 1988), p. 417.
22Pipes, p. 27.
23al-Hayat, (May 9, 1991).
24"Q & A: Syria and Lebanon," BBC News, (April 25, 2005).
25Becker, p. 131.
See also: History of Israel
The Lebanon War
Boundaries
Peace Process

Previous
Next
Table of Contents
Index
To order the paperback edition, click HERE.