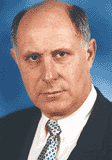 Michael Eitan was born in 1944 in Tel Aviv. He studied law at Tel Aviv University and served as an officer in the Israel Defense Forces (IDF). Active in public affairs, Eitan has served as chairman of the Herut Young Guard and as a member of the Herut Central Committee, as well as founder and director of the "Kochav Yair" settlement project and initiator of the "Shivat Kochavim" community settlement project.
Eitan has been a member of Knesset in the Likud party since 1984. While serving, he has been a member of a number of committees including the House Committee, Education and Culture Committee, Finance Committee, Economic Affairs Committe, Science and Technology Committee, and Foreign Affairs and Defense Committee. He has been the Chairman of the State Control Committee, Parliamentary Inquiry Committee Regarding the Validity of the Polygraph, Constitution, Law and Justice Committee, Parliamentary Inquiry Committee for Uncovering Corruption in the Government System of Israel. While serving as Chairman for the  Subcommittee for Internet and Information Technologies during the 14th Knesset, he initiated the Knesset Internet site.
In the 13th Knesset, Eitan served as the Likud Deputy Parliamentary Group Chairman and the Head of the Opposition Bloc. In the 14th Knesset, he was the Likud Gesher Tzomet Parliamentary Group Coalition Chairman.
Eitan's government roles include serving as the Minister of Science from July 1997 to July 1998. He then became Deputy Minister in the Prime Minister's Office.
Eitan is married and the father of three.
---
Sources: Israel Ministry of Foreign Affairs. Photo used with permission of the Knesset