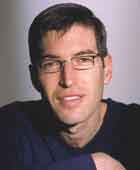 When the first plane slammed into the North Tower of the World Trade Center on the morning of Sept. 11, 2001, Michael Arad was in his East Village apartment getting ready to start his day. He happened to be listening to the radio. When he heard the news announcement, he looked out of his window, saw the wall of billowing smoke and raced to the roof, where he watched in horror as the second plane hit the South Tower.
He immediately realized that his wife, Melanie, a tax attorney with an office on Broad Street, was a short walk from the Twin Towers. "I tried to get in touch with her, but I couldn't get through so I jumped on my bicycle and headed downtown to try to find her," he says.
He dodged rescue vehicles, sirens screaming as they raced to the scene, and weaved his way among the droves of frantic drivers who were heading uptown and the thousands of people who were walking in the streets, trying to escape, trying to make sense of what was happening. "It was a very chaotic scene," he says.
When he arrived at his wife's office, everyone had been evacuated and was milling around the plaza next door. "I found her, and I felt a sense of urgency to get out," he says. "One of her co-workers wanted to stay and get her purse, which was in the office, so she stayed. A few minutes later, when the first tower collapsed, a cloud of smoke came rushing down the street toward their building. We were walking by the South Street Seaport when it happened, and people were screaming and running and I didn't understand that one of the towers had fallen. By the time we were up past the Williamsburg Bridge, by the East River, we saw the second tower falling."
In the nights that followed, when he couldn't sleep, Arad found himself attending the various vigils that were set up around the city. "I'd go to Washington Square Park at 2 or 3 in the morning, and I'd see a dozen people, strangers, standing there together and sharing a moment of understanding. I thought that being able to create a space that could do something like this was very important."
Thousands of New Yorkers have similar stories to tell, but it is important, indeed it is crucial, to know and understand who Arad is and what happened to him on 9/11 because he has been chosen to design the World Trade Center memorial that pays homage to the 2,752 victims who perished in the Twin Towers that day, the 224 people killed in the 9/11 simultaneous hijacking crashes at the Pentagon and in Shanksville, Pennsylvania, and the six people killed in the 1993 terrorist truck-bombing at the WTC.
Arad, an Israeli who has lived in Manhattan since 1999, is the only unknown architect who is working on the Ground Zero project; at 34, he's also the youngest, by decades, on the design team. Until he resigned in February to work full-time on the memorial, he was an architect with the New York City Housing Authority, where he assisted on the design of two police stations. Previously, he worked for Kohn Pedersen Fox, where he was on the design teams that worked on Union Station Tower, a 108-story skyscraper in Hong Kong, and Espirito Santo Plaza, a 37-story tower in Miami that won the New York American Institute of Architects award in 2001. In contrast, Daniel Libeskind, who devised the master plan for the 16-acre site, which includes a glass-encased Freedom Tower that rises 1,776 feet in the sky, making it the world's tallest building in the world (at least for now), is the designer of the Jewish Museum Berlin; WTC PATH Terminal designer Santiago Calatrava is a world-renowned architect whose projects have included the Olympic Sports Complex and the Milwaukee Art Museum, and Arad's collaborator, landscape architect Peter Walker, has been in business for decades and has designed projects around the globe, including the Millennium Park for the 2000 Olympics in Australia.
Arad's "Reflecting Absence," which was chosen from more than 5,000 entries from around the world during an eight-month competition, is a starkly simple tribute consisting of a pair of square reflecting pools that evoke the footprints of the Twin Towers. Trees, arranged in informal clusters, clearings and groves, form the serene backdrop for the recessed pools, which are defined by a cascade of water. Ramps lead to the underground memorial space.
"As they descend, visitors are removed from the sights and sounds of the city and are immersed in cool darkness," Arad says. "As they proceed, the sound of water falling grows louder and more daylight filters in from below. At the bottom, they find themselves behind a curtain of water, staring out at an enormous pool, which is surrounded by a continuous ribbon of names. The enormity of the space and the multitude of names that form this endless ribbon underscore the vast scope of the destruction. Standing there at the water's edge, looking at a pool of water that is flowing away into an abyss, a visitor can sense that what is beyond this curtain of water and ribbon of names is inaccessible. At this moment, you have the greatest empathy; for a split second you start to grasp the magnitude of the event that happened there, the hundreds of names, and all you're seeing at this point is one of two pools. The other pool is just as big with just as many names around it."
In a visual symbol of hope for the future, memorial visitors go from light to darkness and re-emerge in the light.
The 13 members of the jury who selected Arad's design, praised it, commenting,
"Reflecting Absence,' has made the voids left by the destruction the primary symbols of our loss. It is a memorial that expressed both the incalculable loss of life and its consoling renewal, a place where all of us come together to remember from generation to generation."
Arad's first idea was to create a memorial in the Hudson River, where he proposed a floating fountain with two voids. "It was hard for me to imagine building a memorial on the site, especially because it was a site of devastation," he says. The Hudson River memorial would be a physical reminder, "visible and close yet inaccessible, which worked with my idea, my understanding of that day."
Following his selection as one of the eight finalists, Arad decided to take a six-month leave from the New York City Housing Authority so he could devote all of his time to designing the memorial.
"I was very affected by what happened on 9/11," he says, "and I felt the need to express some of these feelings I had. This was a way for me to work through this."
Arad, a tall, lanky man whose intense gray-blue eyes belie the fact that he looks more like a teenager than a new father, makes it clear that he's not comfortable in the spotlight. He's been giving lots of interviews-The New York Times and other major publications have featured him, and he nervously unveiled his final design in January to the world news media as New York Governor George Pataki and New York City Mayor Michael Bloomberg looked on-but he downplays his own role and instead emphasizes that the credit does not belong to him alone.
He spent much time consulting with his architect friends, including Bruno Caballe, who helped him prepare his competition board, and since Arad's selection, Kohn Pedersen Fox has been donating employee time and temporary office space until the young architect's practice is up and running. Then there was the matter of a model, complete with running water, that helped him explore his ideas for the memorial-it was fabricated gratis by Awad Architectural Models, an act that Arad calls "incredibly generous." Although his first design caught the attention of the jury, and he was declared a finalist, he was sent back to the drawing board to spruce up the sparse landscaping. "They thought the plaza appeared too bleak, too somber," he says. "They suggested I contact a landscape architect. I decided I wanted to collaborate with Peter Walker, whose work I've always admired; he's a legend in the world of architecture." So Arad, the unknown architect, made a cold call and Walker, the famous landscape architect, agreed to come on board immediately. "We had a very quick and intense process of getting to know each other," Arad says.
If Arad came to the memorial competition early in life it may be because he came to architecture rather late in life. The child of an Israeli diplomat, Arad, who was born in London on July 21, 1969-the day after the first moon landing, his parents always like to tell him-spent his childhood in Israel, the United States and Mexico. After earning a bachelor's degree in government studies from Dartmouth College, where he finished his major requirements a year early, he began taking an eclectic array of courses, everything from philosophy and art history to studio art. That's when he made the bricks and mortar connection with architecture that led him to earn a Master's degree from Georgia Tech's College of Architecture. After working for three years for Kohn Pedersen Fox, he joined the design staff of the New York City Housing Authority.
"I had a hard time deciding whether I wanted to go to law school or into architecture," he says, "but ultimately it was architecture. A building or space that moves you-it's a very powerful thing. I was interested in architecture for a long time but I was also intimidated by it because I thought it is very difficult to do work that is strong, beautiful and moving. I entered the field with hesitation because I wasn't sure if I could do what I hoped to do."
He need not have doubted himself. By all accounts, "Reflecting Absence" is strong, beautiful and moving. "The strength of the memorial design is in no small part due to the personal importance it has to me," Arad says. "It influenced the clarity of the design."
The reality is that Arad's memorial design will be a living testimonial to those who lost their lives in this, the worst disaster on American soil. "The memorial plaza is designed to be a meditating space," Arad says. "It belongs both to the city and to the memorial. It encourages use by New Yorkers on a daily basis. The memorial grounds will not be isolated from the rest of the city; they will be a living part of it."
Soon, Arad, who confesses that he "never entered the competition with the expectation of winning," will be setting up his own architectural office while he works on the project, which is expected to be completed in 2008. "It's a tremendous amount of responsibility because of the high expectations everyone has. I have to demand more of myself."
But right now, he's reflecting on laying the foundation for "Reflecting Absence." "I'm focusing on the short-term," he says. "In the future, though, I'd love to do more public projects."
---
Sources: Lifestyles