Mayer Jacob "Chic" Hecht
(1928 - 2006)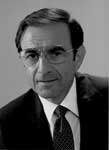 Mayer Jacob "Chic" Hecht was a Jewish American politician and diplomat.
Hecht (born November 30, 1928; died May 15, 2006) was born in Cape Girardeau, Missouri. He graduated from Washington University, St. Louis in 1949 and served in the United States Army Intelligence Corps and as a special agent from 1951 to 1953.
A businessman and banker, Hecht was elected to the Nevada State senate in 1967 and served in that capacity until 1975. He was elected as a Republican to the United States Senate in 1982 and served one term from 1983 to 1989.
In 1988, he was defeated for reelection but was later appointed as Ambassador to the Bahamas, a position he held from 1989 to 1994.
In 2005, Hecht - at the time living at his home in Las Vegas - was diagnosed with prostate cancer. He died of the disease in May 2006 and is survived by his wife and two daughters.
---
Sources: Biographical Directory of the United States Congress; Wikipedia. Photo U.S. Senate Historical Office.