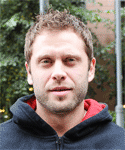 Birbraer is a Russian Jew from Kazakhstan who lived and played in
Israel
after his family fled the Soviet Union to avoid
anti-Semitism
. As a teen, Max moved to Canada to play junior hockey, while his parents continued to live near Tel Aviv. He returned to Israel in 1999 to renew his passport, and was arrested and imprisoned for three weeks for avoiding the military draft in Israel. Birbraer then served in the army, and was discharged for undisclosed medical reasons.
The first Israeli ever to be drafted by an NHL team (The New Jersey Devils), Max speaks four languages, including Hebrew. With his angular beard, frosted blond hair and several body tattoos -- including one of barbed wire to commemorate his prison days and another with the Hebrew phrase "brothers forever" -- he cuts a striking figure. He described his playing style this way: "I love hockey. I like to hit people, too. Score goals. Hit people. Fans love that." (New York Times, Sunday, June 25, 2000, Sports Section, pg.5)
After spending three seasons in the New Jersey Devils organization, Birbraer signed with the Florida Panthers as an unrestricted free agent on July 11, 2003. During the 2003-04 season, Max was hurt for much of the early season and has split time in the minors with the Laredo Bucks of the CHL and the San Antonio Rampage of the AHL. Through February 15, 2004, he has played four games for San Antonio, and 39 games for Laredo (13 goals and 14 assists).
Max began his hockey career at the age of six, when his grandfather Anatoly bought him a pair of skates. Birbraer quickly became one of Kazakhstan's top young players and participated in all-Soviet finals. During this time, Anatoly continued to support Max's efforts on the ice. Birbraer said of Anatoly: "He's the hugest hockey fan ever...He attended almost every practice I was in, never mind the games...He drove me to almost every game...my grandfather taught me the hockey mentality. Never give up. Keep digging." That gritty toughness would eventually serve him well.
After leaving Kazakhstan, Max took his hockey equipment to Israel "for fun." Soon after his arrival, however, he was playing on the Israeli under-20 junior team in a tournament in Bulgaria. At the tournament, there was a bench-clearing brawl when the Israelis reponded to anti-Semitic taunts by Yugoslav players. At another tournament, Max was spotted by Paul Rosen, an assistant coach for the under-20 junior Canadian team. Rosen asked him to come to Canada to continue his hockey career. On watching the Israelis practice, Rosen observed, "I saw really bad players, but there was this tall, lanky guy and the first thing that blew me away was how he could skate. In the first game, I saw some of his moves and it blew me away. I knew he could play and be a North American player." With his parents' permission, Max went to Canada with Rosen as his legal guardian.
After playing two seasons with the Shelburne Wolves, Max was assigned to Newmarket, where he excelled, drawing the attention of NHL scouts. In 1999, the 19-year-old natural left wing (Max is a left-handed shot) scored 50 goals in 47 games for Newmarket in Tier II junior hockey in Ontario. During the season, the versatile Birbraer played all three forward positions, and even served as a backup defenseman during a tournament. As the 67th overall selection, Max was the first of two picks in the third round of the 2000 NHL draft, chosen by the then-defending champion New Jersey Devils. He became only the second player ever to be drafted by the NHL out of Tier II Junior hockey. Max said of being drafted: "My knees were kind of weak...My heart was pounding. It's just a great honor to be drafted by the Devils."
In 2000-01, Max played with the Devils' minor league team, the Albany River Rats, who were considered the AHL's top minor league organization. On playing for Albany, he commented, "I'll get more ice time with big guys, with pros. I have no experience at the pro level." Max played in 50 games for Albany and scored seven goals; he added six assists and 24 penalty minutes. In 2001-02, Birbraer played his second season for Albany. He played in 40 games, and registered six goals, seven assists (13 points), and 22 penalty minutes.
In 2002-03, Birbraer played his third season with Albany. During the year, he appeared in 57 games and scored six goals (including one game-winner) and added six assists. Albany finished the regular season with a record of 25-37-11.
---
Sources: Jewish Sports Review, September/October 2000 issue (Vol. 2, No. 8, Issue 21);http:// www.cjnews.com/; http://www.albanyriverrats.com/; Jews in Sports