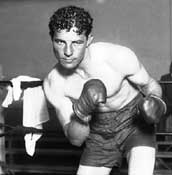 Maximillion Adelbert Baer, better known as Max Baer, was born on February 11, 1909, in Omaha Nebraska. Nicknamed "Madcap Maxie," and the "Livermore Larupper," Baer held the title of World Heavyweight Champion from 1934-35. The Boxing Register: International Boxing Hall of Fame Official Record Book said that Max possessed perhaps "the most powerful right hand in heavyweight history."
Baer dropped out of school in the 8th grade to help his father on their cattle ranch; this labor is alleged to be the reason for Baer's strength. Baer turned professional in 1929, and won 22 of his first 24 fights, 9 with first-round knockouts. His conditioning, combined with his tremendous power, made him a formidable foe. In 1930, he was charged with manslaughter when Frankie Campbell died as a result of a Baer knockout. He was cleared of all charges, but was banned from boxing in California for a year. Baer was so frightened by this incident that he chose to quit boxing altogether for several months.
When he returned to the ring, Baer was reluctant to attack his opponents. Hall of Famer Tommy Loughran told him he was telegraphing his punches, and Jack Dempsey worked with Baer to shorten his punches. In 1932, Baer knocked Ernie Schaaf unconscious in the tenth round of their match. Schaaf died shortly after a later fight with Primo Carnera; however, his death was partially due to the damage inflicted by the blow he received from Baer.
In June 1933, in the best fight of his career, Baer defeated the German, Max Schmeling, in front of 60,000 spectators at Yankee Stadium. During this match, Baer wore the Star of David on his shorts, in a demonstration of pride for the Jewish people at a time when Nazi persecution of German Jews was just beginning.
Baer received his title shot the following year. After knocking the champ Primo Carnera down 11 times, the fight was stopped in the 11th-round and Baer became the title holder.
At the height of his fame, Baer starred in a movie and lived the social high life. He was constantly romantically linked to movie stars, chorus girls, and Broadway starlets. Max Baer had two wives, actress Dorothy Dunbar (married July 8, 1931, divorced 1933) and Marry Ellen Sullivan whom he married on June 29, 1935, and remained with until his death.
In June 1935, in his first title defense, Max lost the title in a 15-round decision to James J. Braddock in a huge upset. His next fight was a loss to Joe Louis. During the fight, Baer returned to his corner (Jack Dempsey was in his corner), and said he could not breath. Dempsey said: "I conned him into the ring...I told him I'd kill him with the water bottle if he didn't go back out there and get knocked out." Baer was knocked out by Louis in the fourth round. He retired from boxing in 1941 with a career record of 72 wins (52 knockouts), and 12 losses. Max Baer died in 1959. He was inducted into the International Boxing Hall of Fame in 1995.
There continues to be some debate over whether Max Baer was Jewish. His father was a non-practicing Jew and his mother was a Catholic of Scot-Irish descent. Max was raised Catholic; however, he proclaimed himself a Jew. Baer said he wore a Magen David on his trunks to show his pride, but some people believed this was done for publicity alone.
In the movie Cinderella Man (2005), James J. Braddock is the hero and fights Max Baer in the ultimate match. Critics took issue with director Ron Howard's portrayal of Baer as cruel and snobbish, when he is remembered as audacious and amiable. The final climatic scenes between Baer and Braddock have people hating the moneyed, snobbish Baer; while cheering on the beloved, average-Joe Braddock. The film portrays Baer as a womanizer and jokester, which he was, but also as malicious, which is not how he is remembered. Before the match, Baer is heard commenting to Braddock's wife "You're too pretty to be a widow"; however, according to Baer's family and historians this malice was atypical of the boxer.
Baby-boomers were not born when Baer was fighting, but many grew up watching his son, Max Baer, Jr., who played Jethro Bodine on the popular television show, The Beverly Hillbillies.
---
Source: "Baer, Max"; "Jewish Fighter Given Short Shrift in Ron Howard's Cinderella Man."
Photo courtesy of Harry Winkler Collection, University Libraries of Notre Dame.