Maurice Rose
(1899 - 1945)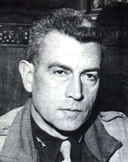 Major General Maurice Rose, born November 26, 1899, was the highest ranking American Jew in World War II.
Rose joined the military in 1916 as a private and served along the Mexican border before fighting in the 89th division in France in 1917. He rose through the ranks and during World War II he fought in the three most prominent American Army divisions: the 1st Armored division - "Old Ironsides" - in Africa, the 2nd Armored division - "Hell on Wheels" - in Italy, and was then promoted to Major General in the 3rd Armored division in Germany, which was given the nickname "Spearhead". Under Rose, Spearhead became the first division to penetrate the Siegfried Line, one of Germany's most important defenses.
Rose was killed in action on March 30, 1945. He was shot in the head while trying to surrender after a surprise ambush by three German tanks.
---
Sources: American Jewish Archives